The 2011 Rolls-Royce 102EX Electric Concept Car was designed with the same look as the innovative Rolls-Royce Phantom, with the key difference of being the first electric car ever made by this prestigious manufacturer.
This one of a kind car is only intended to be an example to demonstrate to the world audience the potential of electric cars for the future.
It has been displayed worldwide, at venues including Geneva Switzerland and the Los Angeles Auto Show. A few critics were also allowed to test drive the 2011 Rolls-Royce 102EX while it was in Los Angeles, and were stunned by the performance of this electric concept car.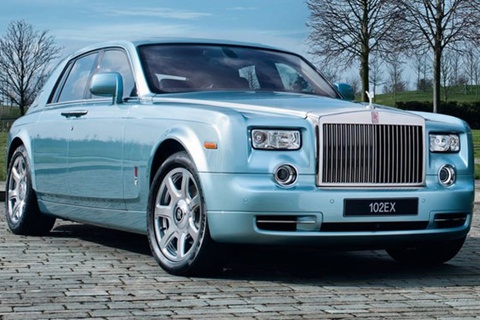 Performance
The 6.7 liter V-12 engine has been replaced by two 145 kilowatt motors are located near the rear wheels of the car, giving 590 pounds per foot of torque.
The battery capacity is rated at 71 kilowatt-hours, higher than any other electric car available.
Tests have demonstrated that the Rolls-Royce Phantom Experimental Car has a potential capacity to run for 200km before requiring an additional recharge.
The acceleration of this car from 0-60mph has been clocked within less than eight seconds, and it delivers a top speed of 160 kilometers per hour.
Exterior
The eye-catching finish of the Experimental Phantom was achieved with sixteen layers of paint that contained ceramic nano particles, four of which are the color Atlantic Chrome, giving a highly-reflective sheen to the final product.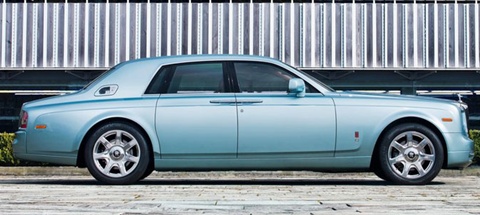 Additional Features
Some additional fun features of the Experimental Phantom include a display showing how much power is being regenerated while you're driving the car. The car also contains an experimental kind of leather that is entirely chrome free, called Corinova that is used to make unique, chestnut colored seats.
Corinova leather requires less paint finish, thus producing less waste than standard leathers. The car is also rechargeable via a completely new technology called induction charging, in which no physical connection is necessary to charge the batteries. All of these new developments will only be further refined in the bright future of the ultimate in electric luxury automobiles.
Specifications
General Info

| | |
| --- | --- |
| Vehicle Type: Sedan | Base Price: NA |
Dimensions

| | |
| --- | --- |
| Length: 229.9 in. (583.9 cm) | Wheel Base: 140.6 in. (357 cm) |
| Height: 64.5 in. (163.8 cm) | Width: 78.3 in. (198.8 cm) |
| Luggage Capacity: 16.2 cu ft | Maximum Seating: 5 people |
Performance

| | |
| --- | --- |
| Motor: Two Electric Motors | Max Power Output: 290 kW |
| Battery: Ni Cobalt Manganese | Max RPM: NA |
| Torque: 590 lb-ft | Transmission: Single-Speed |
| 0-60 mph: 7.9 seconds | Maximum Speed: 99 mph (160 km/h) |