The 2011 Renault CAPTUR Concept has a 160 horse power, 1.6 liter inline engine and a top speed of 130 mph. This athletic looking car can jump from zero to sixty-two mph in 8 seconds. The great thing about this automobile is that it can transform to a convertible with a hard top that may be removed, revealing carbon fiber underneath.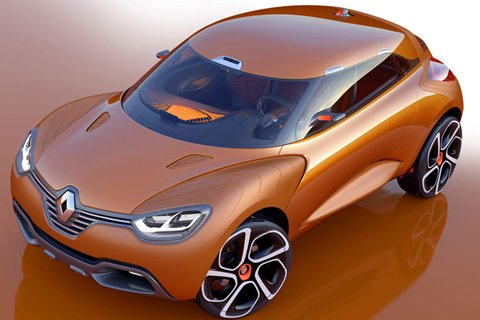 The model comes with butterfly doors and 22 inch black and white rims for the tires. The body itself is painted in a spicy combination of red and orange that varies in shade on the different parts of the vehicle – communicating warmth to the passengers.
CAPTUR is capable of riding up to four passengers with seatbacks that may be pulled – revealing full sized rear seats that also include safety gears like head restraints and seat belts.
The Renault CAPTUR also comes with an Energy dCi 160 twin-turbo that minimizes CO2 emissions of the car to as much as 99 g per kilometer when paired with the EDC gearbox.
Additional technology imbedded in the model is the Visio-system that shows an image of the road ahead on the screen. This helps drivers with their perception behind the wheel, making for a more comfortable ride.