Summer 2011 marks the grand launch of Mercedes-Benz's newest SLK-class roadster, the SLK R172. Following at the heels of the R170 (1998-2004) and the R171 (2005), this state-of-the-art sports car was carefully engineered by PIECHA designs and equipped with features that are both a celebration of modern design and futuristic tuning.
Headed by the Mercedes design specialists hailing from Rottweiler, the SLK R172 is touted as a classier and sportier version of the legendary roadster from Stuttgart. With front and rear Accurian RS spoiler lips, lateral grids and four LED daytime recessed running spot lights on the right and left sides, the R172 is certainly a force to be reckoned with.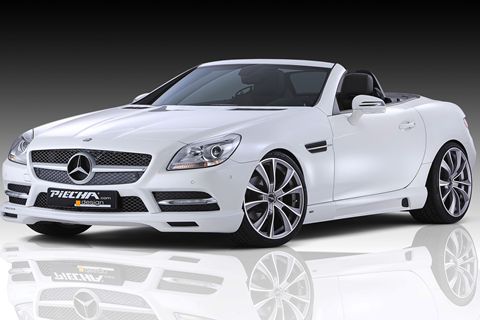 Developers of the elegant and adrenalin-inducing modern Mercedes road cars, PIECHA designers weren't remiss in infusing a sleek aerodynamic look and capacity on the R172. In addition, PIECHA made sure that airflow on the R172 remains as serene as it can be with opposed installed Accurian RS side skirts that can latch on seamlessly on the original lateral grids—endowing the R172 with further prominence and stylistic appeal.
Last but certainly not the least, opening and closing of the R172's retractable top is virtually breeze at 60 km/h maximum speed—an astounding design feature providing levity between ease of use and convenience. Detailed information of the R172 including price and model specifications are available at certified Mercedes-Benz distributors and showrooms.