It's a fact: convertibles make people look cool, and the Maserati GranCabrio is the realization of its very definition. It's fast and pretty. With Novitec Tridente putting its own spin to it, the added touch of Italian has taken the convertible to a whole new level of greatness.
The 2011 Novitec Tridente Maserati GranCabrio is now upgraded with supercharged engine that boasts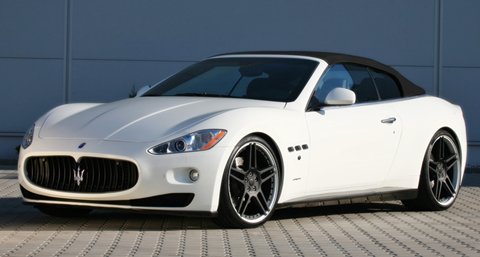 590 horsepower—a result of quality Ferrari engineering. The convertible runs as fast as 301 km/h. To top off the modifications, Novitec has installed a new sports exhaust system, in which the customer can choose between having the control flap or not. The exhaust system is built with four slanted tailpipes, each having a diameter of 90 millimeters.
The 2011 Novitec Tridente Maserati GranCabrio is geared with aerodynamic-enhancement components that are made from carbon fiber. The wheels are also new fancy additions. The 21-inch front and 22-inch rear wheels can be customized to fit your preferences. The wheels can also be carbon fiber-coated upon request. The Novitec Tridente-enhanced mobile now features a coilover suspension that can be adjusted to fit the driver's ride-height.