The 2011 Nissan Titan can be considered as one of the best ranking Full Size Pickup Trucks in the market today. In its first introduction, about seven years back, the Nissan Titan boasted of very impressive features that had its competitors running for their money but unfortunately without any new developments in the new model, other companies have been able to catch up to this pickups once impressive features and has remained to be just like any other pickup truck. Although other pickup trucks in this category and price range have outshone the Titan, most still say that this pickup truck is capable of most of the functions intended for this kind of automobile.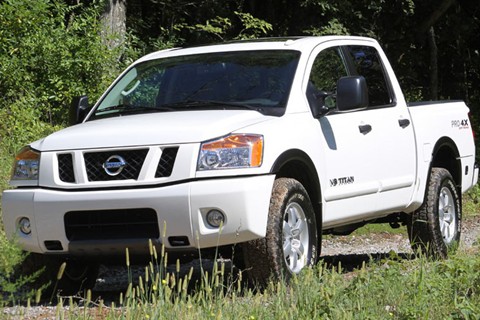 Specifications
General Info

| | |
| --- | --- |
| Vehicle Type: Pick Up Truck | Base Price: $29,960.00 |
| Fuel Tank Capacity: 28 gallons (105 liters) | Miles Per Gallon: 13 city / 18 hwy |
Dimensions

| | |
| --- | --- |
| Length: 224.6 in. (570 cm) | Width: 79.5 in. (201.9 cm) |
| Height: 74.7 in. (189.7 cm) | Wheel Base: 139.8 in. (355 cm) |
| Curb Weight: 5038 lbs (2285 kg) | Ground Clearance: 10.4 in. (26 cm) |
| Luggage Capacity: 150 cu ft | Maximum Seating: 6 people |
Performance

| | |
| --- | --- |
| Engine: 32-valve DOHC V8 | Displacement: 5.6-liter |
| Horsepower: 317 HP | Max RPM: 5200 RPM |
| Torque: 385 lb-ft @ 3400 rpm | Transmission: 5-Speed Automatic |
| 0-60 mph: 7.1 seconds | Max Towing Capacity: 7500 lbs (3402 kgs) |
Available Trims & Engine

| | |
| --- | --- |
| Option:2WD King Cab SWB SV | MSRP: $29,410; MPG: 13 city / 18 hwy |
| Option:2WD Crew Cab LWB SV | MSRP: $32,060; MPG: 13 city / 18 hwy |
| Option:2WD King Cab SWB SL | MSRP: $37,510; MPG: 13 city / 18 hwy |
| Option:4WD King Cab SWB | MSRP: $30,260; MPG: 12 city / 17 hwy |
| Option:4WD King Cab SWB Pro-4X | MSRP: $35,140; MPG: 12 city / 17 hwy |
| Option:4WD King Cab SWB SL | MSRP: $40,210; MPG: 12 city / 17 hwy |
Performance
In terms of the performance, the Nissan Titan does offer a good performance level although it does have less than acceptable towing capacity since most other contenders in the category would have a better engine power.
If you are decided and have your eyes set on the Nissan Titan consider your options. The Nissan Titan offers four trim levels namely the Base S, SV middle of the road, the SL premium and lastly the PRO 4X which is performance oriented, compared to the Cabs (King or Crew) would allow about five to six seating. Unlike typical cab models, their King Cab would comprise of a bed with six feet and seven inches and five feet and seven inches or seven feet and three inches beds for the Crew Cab.
Exterior & Interior
For the exteriors, it has a very masculine design and is quite stylish unfortunately this has been all the change that has been made with regards to exterior since the first model came out in 2004. Moving on to its interiors, it matches up to most other pickup trucks in the similar category and nothing much that stands out about it. It does have comfortable seating and well designed interiors and good spacious cargo area although in terms of the finishing, other brands might offer a more polished and sophisticated look.
Reliability & Safety

And like any other Nissan made vehicle, the reliability of this pickup truck still stands tall. The Titan has a 3-year warranty. While in terms of the pickup trucks over all safety, the Nissan Titan boasts an impressive safety performance that measures up well in government crash tests.
The Competition
There are a lot of other pickup trucks that are in the similar price range and category that can be placed in comparison to the Nissan Titan. One of which is Ford's F-150 (MSRP $22,790; 17 city / 23 hwy) that offers the top class capabilities in terms of towing and hauling and also intelligently infused with Ford's SYNC system together with a voice-controlled navigation system.
For people interested in making changes to their pickup trucks, the F-150 does offer that option unlike the Titan. Another contender would be the Chevy Silverado 1500 (MSRP $21,235; 15 city / 20 hwy) and the GMC Sierra 1500 (MSRP $21,235; 15 city / 20 hwy) that costs far less than the Nissan Titan.
The 2011 Titan does have its fair share of strong and weak points. On the practical side there are a lot of other pickup trucks within the similar price range that can be considered as good options.
Overall Rating


62 out of 100
What others say:
"The 2011 Nissan Titan performs well and has a comfortable interior, but its appeal is more limited than the full-line full-size trucks from the Big Three and Toyota."Car Connection
"A smooth, powerful V8 puts Titan among quickest large trucks off the line. Passing punch is ample. The transmission upshifts smoothly, but sometimes suffers from delayed downshifts."Consumer Guide
"Newer competitors are more capable and comfortable; cab style and drivetrain selection are limited; burly exhaust note gets tiresome on long drives."Edmunds