The 2011 Nissan Leaf is a four-door compact car that has a totally seating capacity for five passengers. It is the first all-electric vehicle that was mass produced and sold in the United States. Its name is actually an acronym for Low Emission Automobile of the Future. It is a vehicle with no emissions, tailpipe and engine.
According to its manufacturer, this model used recyclable materials for its interior as well as exterior design. As a matter of fact, around 94% of this vehicle is recycled. Thus, it is easily the greenest or most environment-friendly car ever produced.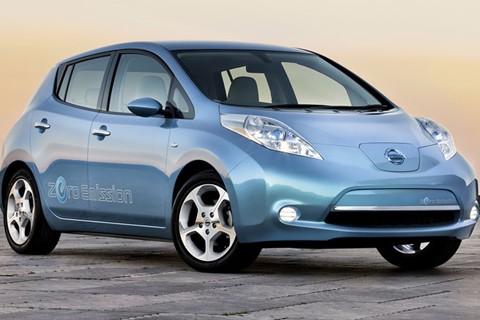 Specifications
General Info

| | |
| --- | --- |
| Vehicle Type: Electric | Base Price: $32,780.00 |
| Fuel Tank Capacity: NA | EPA Mileage Estimate: 106 city / 92 hwy |
Dimensions

| | |
| --- | --- |
| Length: 175 in. (444.5 cm) | Width: 69.7 in. (177 cm) |
| Height: 61 in. (154.9 cm) | Wheel Base: 106.3 in. (270 cm) |
| Curb Weight: NA | Ground Clearance: 6.3 in. (16 cm) |
| Luggage Capacity: 14.5 cu ft | Maximum Seating: 5 people |
Performance

| | |
| --- | --- |
| Engine: Electric | Horsepower: 107 HP |
| Torque: 207 lb-ft | Transmission: 6-Speed Automatic |
Available Trims & Engine

| | |
| --- | --- |
| Option:SL | MSRP: $33,720; MPG: 106 city / 92 hwy |
Performance
Under the hood, you will see that this model is actually powered by an 80-killowatt synchronous electric motor. This motor is then powered by a lithium-ion battery pack of 24kWh. The Leaf gives you as much as 207 pound-ft of torque with 107 horsepower.
Also according to its manufacturer, this model can reach up to 100 miles. But of course, this still depends on a lot of factors like the traffic condition, speed, and driving style used among others. Similarly, the energy efficiency equivalent rating for this model was pegged at 106 mpg city or 92 mpg highway as well as 99 mpg combined.
Nissan also made it a point to equip this model with a system termed as Carwings. This is basically an application for a Smartphone through which you can check the charging status of the battery. You can also use this as a start-charging command application as well as a remote to switch the heating or cooling system on.
Interior & Exterior
When it comes to the exterior styling, a lot of reviews actually say that the design of the Nissan Leaf is unique. Some even call it polarizing. In fact, a lot agree that the design for this model was successfully iconic but not weird. It is sleek and sporty at the same time. It definitely looks futuristic. The Leaf also has a tiny panel in its front hood wherein the plug-in points of the vehicle were placed. There are two outlets—one for a standard 220-volt, and another which is compatible with the quick-charging station of Nissan.
The shape of this model is somewhat aerodynamic and curvaceous as well. But do not be misled because the exterior styling also has a purpose. For instance, it was designed in such a way that the noise and wind resistance will be decreased. However, there are still those who are not impressed by this model's design.
In terms of the interior, the Leaf is definitely loaded with high technology features. For starters, this model has a standard push button start, iPod navigation and integration as well as Bluetooth connectivity.
When it comes to seating, a lot of reviewers and users are disappointed with this model. For one, the rear rows are very tight. Actually, the backseat is among the major drawbacks of this model. However, the front seats are still spacious.

Safety & Reliability
In terms of safety, you can be assured of that with this model. As a matter of fact, it earned the highest ratings in the side, rear, roof and front crash tests. This model also comes with a standard electronic stability control. Thus, it is not a surprise that it became the 2011 top safety pick.
However, the Leaf only got a 6.0 in a total of 10 in the Predicted Reliability rating from the J. D. Power. Its basic warranty is pegged at 36-months or 36,000 miles. There is a power-train warranty of 60,000 miles or 5 years as well. And lastly, the 2011 Nissan Leaf also comes with a lithium-ion battery coverage that lasts for 96 months or 100,000 miles.
The Competition
Among its expected competitors are the Mitsubishi iMiev, Ford Focus electric, Mini E as well as the Prius plug-in hybrid.
Overall Rating


75 out of 100
What others say:
"The 2011 Nissan Leaf is the first all-electric car from a major carmaker; if you can live with a 100-mile range, it's the greenest car on the market."Car Connection
"Instantaneous torque from a stop means Leaf accelerates as well as some V6-powered vehicles, up to about 30-35 mph. It runs out of steam very quickly above that. Merging and passing response are on par with most 4-cylinder compact cars. The single-speed transmission means you feel no shifting. It's a bit odd at first, but you quickly acclimate."Consumer Guide
"No more gas stations; spacious, quiet cabin; snappy acceleration; intelligent navigation system."Edmunds