The yet to be released 2011 SLS AMG Roadster is the second generation AMG model devoid of iconic AMG gullwings of her earlier predecessor—but this latest offering from world-renowned automobile luxury brand Mercedes-Benz is definitely a high-performance super car packed with features and engine design that will blow everyone away when SLS AMG Roadsters make their global debut on 2011 September at the International Automobile Show in Frankfurt/Main.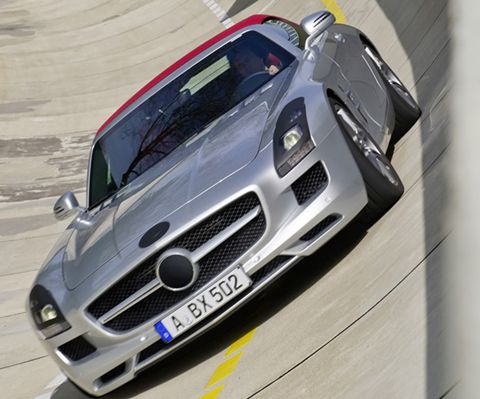 Based on a digital prototype, the SLS AMG Roadster may first appear like an understated, Coupe-and-Roadster hybrid for the unrefined pedestrian or spectator—without any of the quintessential Mercedes-Benz stars or model attribution, it may seem like a standard two-seater vehicle embellished with a soft retractable top.
But the insiders who have been expertly testing and developing the SLS AMG Roadster have been judiciously laying down a strategic program aimed at perfecting aerodynamics (optimal driving in an open-top model), fuel and engine performance (V8 engine up to 317 km/h), bodywork technology and aesthetics (aluminum / steel /magnesium bodyframe without gullwing doors and roof characteristic of a Coupe), interior ergonomics and design, crash performance and handling maneuverability (compact top opens and closes in as little as 11 seconds even at speeds up to 50 km/h), among other things.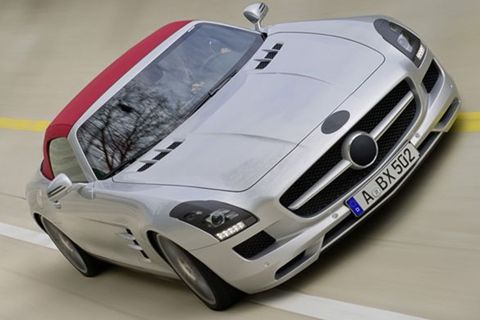 The specialists at AMG have been working intensively and closely with other departments at Mercedes Technology Center (MTC) in Sindelfingen to achieve their key objectives. When it debuts on the fall of 2011, the 420 kW (571 HP) Roadster will be ready for the worldwide audience.