If you are in the market for a car like no other that will grab the attention of everyone along the strip, the 2011 Mercedes-Benz Silver Arrow is the perfect vehicle for you.
This car debuted during the 2011 Los Angeles Design Challenge that attempted to find the best film car to use in movies. This sleek vehicle includes a unique body, fast speed and futuristic features.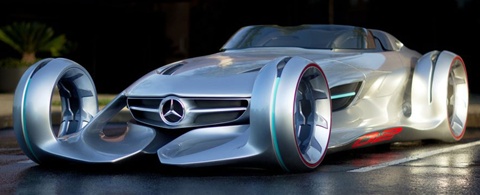 Future from the Past
Innovative designers from Germany and the United States collaborated to create this model. This vehicle is more of a work of art than a common mode of transportation. The body is a combination of the 1930s Silberpfeil racecar and the 1950s Uhlenhaut SLR.
Mercedes-Benz also relied on its Formula 1 racing history to influence the design of the 2011 Mercedes-Benz Silver Arrow Concept. The car is long and loaded with plenty of curves. It also adds pieces of current designs that help to identify the Mercedes-Benz line, such as the noticeable front grille.
The diagonal hubless roller track provides for steering in every direction, called omni-directional driving. The vehicle also features a Mag-Tech roof system that consists of a lightweight magnetic surface. The roof can be dropped to form a convertible or raised for a solid surface.">

Sci-Fi?
This vehicle blends utility and adventure. The car is easy to handle, while featuring an appearance straight out of sci-fi movies. The vehicle was made to commemorate Mercedes-Benz's 125th anniversary and is a testament to the innovation that the company provides.
The bright light strips help to draw attention to this one of a kind vehicle. The hubless wheels give the illusion that the car is floating over the road.
With its sleek design, unique maneuvering abilities, futuristic features and a style that is certain to attract the attention of anyone nearby, the 2011 Mercedes-Benz Silver Arrow Concept would be an ideal vehicle to own.