The 2011 Mercedes-Benz CL-Class means high-performance in a luxury car that's clearly poised to move into the future. Apart from an attractive new styling, the maker of the strikingly handsome coupe has reduced emissions and fuel usage.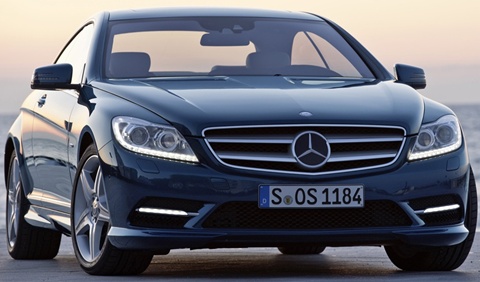 The four trim levels and engines include the CL550 (with 382-horsepower V8 engine), CL600 (510-hp V12), CL63 AMG (518-hp V8) and CL65 AMG (with 604 horsepower, V12 twin turbo engine). The latter can go from zero to 60 in a little over four seconds. A rearview camera and nighttime vision come as standard features. For 2011, the all-wheel-drive CL550 4MATIC and rear-wheel-drive CL600 have both undergone mild reshaping. The two-door version of the S-class sedan is pricey and luxurious as can be. Nonetheless, the 2011 CL-Class is very appealing for its captive market.
The 2011 Mercedes-Benz CL is equipped with high-tech features designed to assist the boulevard-cruising driver. There's the optional Active Lane-Keeping Assist that makes the steering wheel vibrate if the car tends to drift into another lane. It's a smart car that's alert to the car's throttle and brake inputs.