Kia Motors has consistently conceived creative and alluring concept cars throughout its illustrious manufacturing career. Models like the Soul, Sorento, Forte Coup and Sportage all arrived as concept cars that Kia motors had displayed in various car shows.
With the Kia KV7, the company chose to embrace the stereotype of a minivan, rather than to shun it away.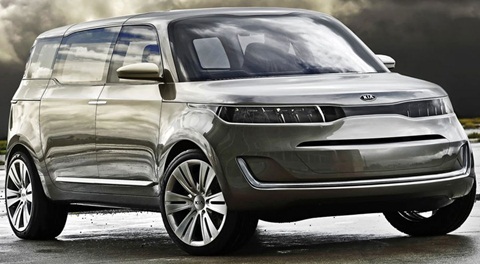 Exterior
As such, the KV7 has been aptly titled as the modern-day "activity van" or mini-van, for short. The A-shaped pillar and windshield template complements the van's wide stance. Moreover, the sleek body of the KV7 and its 20-inch wheels bring about an urban vibe while adding in the looks of a sports utility vehicle.
Perhaps the most prominent feature of the KV7 is the inclusion of the passenger-side gull wing door. Since there are no more pillars found in between the passenger side doors, the gull wing door creates a spacious point of entry inside the van's comfortable and stylish interior.
The headlights are outfitted with LED headlamps and other lighting elements. Following the distinctive designs on the Sportage and Optima, the KV7's windshield and its un-interrupted windows can provide clear and unobstructed views of the passenger's surroundings.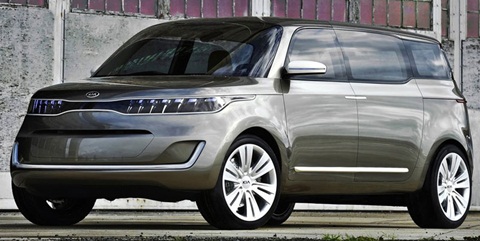 Interior
Even though it is designed to have the edginess of an SUV, the KV7's length, width and wheelbase are well within the van segment and allows much legroom and storage options.
The interior features four unique swiveling chairs, including the driver's seat, with a mini-lounge found at the rear corner of the van. The push start button of the KV7 allows the dashboard to move 6 inches towards the driver and efficiently showcases the multi-use display panel. Moreover, the rear passengers will also have their own touch screen interface.
All of these features are efficiently powered by Kia's new Theta II 2.0 liter engine – a fine specimen of mechanical beauty.
Specifications
General Info

| | |
| --- | --- |
| Vehicle Type: Mini van | Base Price: NA |
Dimensions

| | |
| --- | --- |
| Length: 191.85 in. (487 cm) | Wheel Base: 122 in. (310 cm) |
| Height: 68.1 in. (173 cm) | Width: 80 in. (203 cm) |
| Luggage Capacity: NA | Maximum Seating: 7 people |
Performance

| | |
| --- | --- |
| Engine: Theta II Turbocharged V6 | Displacement: 2.0 Liter |
| Horsepower: 285 HP | Transmission: 6-Speed Automatic |