Full sized SUVs are one of the most competitive segments in the car market, especially when it comes to upscale models. Luxury SUVs have been the choice for those who are able to afford them, primarily because of its size and style. And Infiniti, the luxury division of Nissan, has their own SUV to contend in this tough segment. And based on what people say, it is one of the best. Meet the 2011 Infiniti QX56.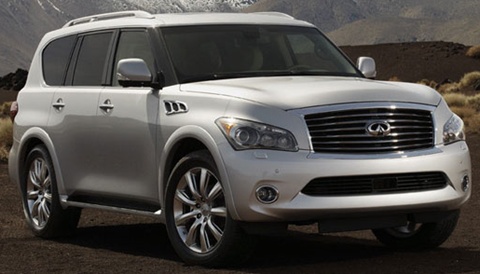 Exterior & Interior
Looking at the exterior, the QX56 looks very rugged. This suits just about right for an SUV of its size. For 2011, it has undergone a redesign, perhaps due to its perception of being way too similar to the Nissan Armada. Now, it has sleeker styling, with curves and other innovative cues that became characteristic of the Infiniti cars of this generation. It is dashingly aggressive, which most people actually like.
While the opinions regarding the exterior are still split, opinions about the interior are unanimous. It is a winner in many areas. There are 3 rows of seats in the QX56. The front and middle row occupants are promised to have a comfortable ride because the seats are abundant in space and cushioning. In addition, the trim, composed of leather and wood, is an upgrade compared to the cheap looking exterior of the past QX56s. And while the electronics are relatively tough to learn, it is loaded with features such as a premium sound system, climate control, Bluetooth, and Infiniti's proprietary Around View System, which allows the driver to see a 360 degree view of the car's surroundings.
Trunk space, while deemed to be average, should be more than enough for most people. 19.3 cubic feet of space is available if all 3 rows of seats are in use, and up to 112 cubic feet is available if the 2nd and 3rd rows are folded.
Performance
Power for the Infinity QX56 comes from Infiniti's trusty 5.6 liter V8 engine. With output rated at 400 horsepower and 413 lb/ft, it can sprint and haul with the best of them. The biggest improvement for the engine is the addition of direct injection. Coupled with a 7 speed automatic transmission that is standard equipment for this car, it brings about better performance and fuel economy. Speed builds up almost effortlessly, and you'll even be surprised to see yourself hovering around the 100 miles an hour without even breaking a sweat. In addition, fuel economy is rated to range from 14 to 20 miles a gallon. Though this can be considered poor, it is an upgrade from the previous model, and is just about par with its opponents in the SUV market. Both 2 wheel drive and 4 wheel drive drive-train options are available.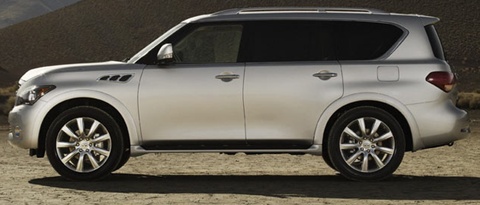 The Competition
There are three other SUVs that come to mind should you decide to make comparisons against the QX56, all of which fall in the same class. They are: the Cadillac Escalade (MSRP $63,455; 14 city / 18 hwy), Lincoln Navigator (MSRP $57,630; 14 city / 20 hwy), and the Mercedes Benz GL Class (MSRP $61,950; 13 city / 18 hwy). Each is unique in its own way, but definitely worth considering when comparing it against the Infiniti QX56.
Pros & Cons
The reviews of this car are mixed, but they are mostly positive, praising that the 2011 QX56 is an upgrade over the past model. The exterior is well sorted out, and it brings a much needed identity for an otherwise good yet bland car. The interior is everything that you can ask for on a luxury SUV, and the third row seat is good enough for more than just kids.
An updated engine and transmission allows for better economy and power, and even boasts a towing capacity of over 8000 pounds. On the bad side is that, while it handles well, drivers may not like its relative lack of feedback and feel, and there are some styling cues (most notably the front fender vents and the long rear bumper cover) are deemed to be unnecessary.
All in all, the Infiniti QX56 is perhaps the best that the SUV market has to offer. Armed with a lot of equipment that can put its opponents to shame, it is a serious car worth your consideration if you want a high end full sized SUV.
Overall Rating


79 out of 100
What others say:
"It's hard to find a duty the QX56 can't handle—transporting the masses or pleasing the purists."Car Connection
"Though big, QX56 feels relatively nimble for its size, at least on the highway and suburban streets. Straight line stability is good, and the steering offers reasonable feel for such a large SUV. Braking control is fine."Consumer Guide
"The QX feels cumbersome even in everyday driving and disconcerting when pushed to its limits. Electronic safety aids include lane-departure and blind-spot warning systems, and a panoramic rear-view camera."MSN Auto-ConsumerReports
"Plentiful features, both standard and optional; powerful V8; handles great for its size."Edmunds
Specifications
General Info

| | |
| --- | --- |
| Vehicle Type: Luxury SUV | Base Price: $58,700.00 |
| Fuel Tank Capacity: 26 gallons (98 liters) | MPG: 14 city / 20 hwy |
Dimensions

| | |
| --- | --- |
| Length: 208.3 in. (529 cm) | Width: 79.9 in. (203 cm) |
| Height: 75.8 in. (192.5 cm) | Wheel Base: 121.1 in. (307.5 cm) |
| Curb Weight: 5599 lbs (2539 kg) | Ground Clearance: 9.2 in. (23.3 cm) |
| Luggage Capacity: 16.6 cu ft | Maximum Seating: 7 people |
Performance

| | |
| --- | --- |
| Engine: 5.6L DOHC 32-valve V8 | Displacement: 5552 cc |
| Horsepower: 400 HP | Max RPM: 5800 RPM |
| Torque: 413 lb-ft @ 4000 rpm | Transmission: 7-Speed Automatic w/ ASC |
| 0-60 mph: 6.2 seconds | Max Towing Capacity: 8500 lbs (3855 kgs) |
Available Trims & Engine

| | |
| --- | --- |
| Option:QX56 4WD | MSRP: $61,800; MPG: 14 city / 20 hwy |