For most car enthusiasts, Hyundai is like that new kid on the block that is out to prove itself that it can hang with the big hitters of the automotive industry. So far, whatever that they are trying to implement, it has been working. After a while, now they are being recognized for making quality cars that is actually worth your money. Even better, they are consistently trying to expand their portfolio to continue this upward momentum. One of their latest product is the 2011 Hyundai Equus. It is a large luxury car, meaning that it faces stiff competition from all kinds of companies.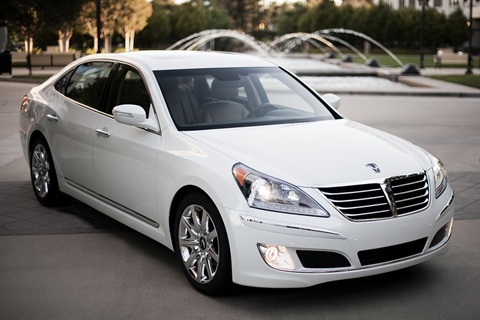 Specifications
General Info

| | |
| --- | --- |
| Vehicle Type: Luxury Performance | Base Price: $58,000.00 |
| Fuel Tank Capacity: 20.3 gallons (76.8 liters) | MPG: 16 city / 24 hwy |
Dimensions

| | |
| --- | --- |
| Length: 203.1 in. (515.8 cm) | Width: 74.4 in. (189 cm) |
| Height: 58.7 in. (149 cm) | Wheel Base: 119.9 in. (304.5 cm) |
| Curb Weight: 4449 lbs (2018 kg) | Ground Clearance: NA |
| Luggage Capacity: 16.7 cu ft | Maximum Seating: 5 people |
Performance

| | |
| --- | --- |
| Engine: 32-valve DOHC V8 | Displacement: 4.6 liter |
| Horsepower: 385 HP | Max RPM: 6500 RPM |
| Torque: 333 lb-ft @ 3500 rpm | Transmission: ZF 6-Speed Automatic w/ SHIFTRONIC® |
| 0-60 mph: 6.0 seconds | 1/4 Mile: 14.4 seconds |
Available Trims & Engine

| | |
| --- | --- |
| Option:Equus Ultimate | MSRP: $64,500; MPG: 16 city / 24 hwy |
Performance
The Equus is equipped with the same 4.6 liter V8 engine found in the Genesis sedan. Capable of producing 383 horsepower and 333 lb/ft of torque, it provides enough power to push this car to speed. Fuel economy is also relatively good, rated to have fuel consumption of 16 miles per gallon on city driving and 24 miles per gallon on highway driving. This engine is paired with a six speed automatic transmission, the same gearbox found in the Genesis sedan.
Interior & Exterior
The exterior of the Equus garnered mixed reviews from both fans and critics alike. While it looks stately, aggressive, and clean, but some think that the design of this car is way too generic and that it is even guilty of imitating other cars in its class. In short, it is good enough, but not quite enough to make a lasting impression. As for the interior of the car, it exudes the feel of a true luxury car, even that of a super luxury car. Ventilated and heated seats are standard equipment for this car, and the driver's seat even has a massager feature. Most importantly, all seats have ample space for passengers.
Add the Ultimate package and get a DVD entertainment system and a refrigerator, just to name 2 of the added features. Even better is that this car is so quiet that even the engine's sound seem non-discernable. As for safety, the Equus is equipped with a total of 9 airbags covering the front and side, anti-lock brakes, traction control, a backup camera, and a lane departure warning system.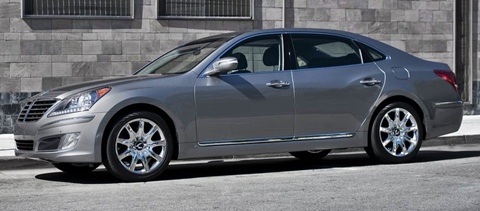 The Competition
The size of the Hyundai Equus puts it in the same league as heavy hitters such as the BMW 7 Series (MSRP $70,650; 17 city / 25 hwy), the Mercedes Benz S Class (MSRP $91,000; 19 city / 25 hwy), the Cadillac DTS (MSRP $46,680; 15 city / 23 hwy), and the Lexus LS 460 (MSRP $67,130; 16 city / 24 hwy). The first thing that you'll notice about this car is the price. Priced competitively, it is significantly more affordable than most of its competition. Furthermore, it has one of the most extensive lists of standard equipment among all luxury cars on the market. It is extremely stuffed with features that it actually belies its true price. In short, this is one car that feels more expensive than it is actually priced. And that is one major plus working in its favor.
Pros & Cons
There are a lot of things that people like about the Equus. First of all is that it is equipped with features that you expect in more upscale vehicles at a fraction of the price. For those that are looking for a fully loaded vehicle on a budget, this is a good car to have. Furthermore, it is constructed well enough to be considered part of the upper echelon of vehicles. However, its biggest setback is a lack of character and identity. Furthermore, some, upon close inspection, feel like some of this car's components felt cheaply made, a no-no for any car that has aspirations of being a great luxury car.
All in all, the 2011 Hyundai Equus is a mixed bag. While it has its share of flaws, it is hard to go against what it brings to the table. It brings a lot of features at an affordable price. For those that are looking for more, perhaps they should wait for the next generation Equus coming out next year.
Overall Rating


76 out of 100
What others say:
"The 2011 Hyundai Equus sets a high-water mark for the Korean brand, and rings like a warning shot to the folks over at Lexus."Car Connection
"Equus is a luxury car with no sporty pretensions, and that is born out in the form of copious cornering lean and pronounced nose dive in sudden braking. Strong, sure-feeling brakes bring Equus to a quick stop."Consumer Guide
"Long list of standard features; presidential-size backseat; supremely quiet; high-quality cabin; insanely low price for segment."Edmunds
"While the price, services and lengthy list of features are sure to draw some attention away from its competitors, the 2011 Hyundai Equus still lacks the overall refinement and luxury-brand cachet that other in its class offer in excess."KBB