A hybrid is a hybrid simply because of its two power sources – an internal combustion engine and an electric motor. It has two power sources and two powerfully significant results – maximum fuel economy and minimum pollution.
The 2011 GMC Yukon Hybrid is available as an affordable large Sports Utility Vehicles. Its fuel efficiency, a standard feature in all brands and models from the General Motors Corporation, is most highlighted in this vehicle.
The GMC Yukon Hybrid ranks the sixth out of eight affordable large SUVs in the market based on analysis of published reviews and test drive feedbacks. The base of the Yukon Hybrid, which is the 2011 GMC Yukon, is in fourth place. Occupying the top spots on the same list though are two models from GMCs corporate relative, the Chevrolet. The 2011 Chevrolet Tahoe is Top 1 on the list. The Chevrolet Suburban (MSRP $41,335; 15 city / 21 hwy) is not far behind at number 2 on the list.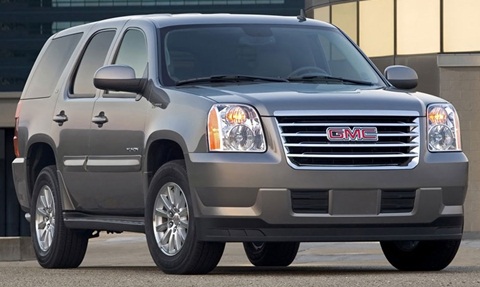 Performance
The Yukon Hybrid features a two-mode hybrid propulsion system. It has 18" Hybrid exclusive wheels, fuel efficiency gauge. It has similar features with the base Yukon with an 8 –passenger leather appointed, comfortable interior space that can allow some effortless towing on the side. Performance-wise, it is highly superior and very capable, just like it original sibling. It is backed by the following features: Flexfuel Capability Vortec V8, Active Fuel Management and Hybrid Power flow Display for reliability.
Exterior & Interior
On the exterior, most of its air is characterized by subtlety. It is sleek, classic and elegant. It is maneuverable, light and easy to drive and cruises along the highway gracefully. It has a gentleman's stride on the streets, owing to the characteristic General Motor masculinity. Inside, it is fitted with a comfortable and spacious interior for eight passengers, lavishing in coziness of the leather appointed seats. It is gives a feeling similar to what one experiences at home in a relaxing leather sofa.
The Yukon is tech savvy SUV as well. For easy parking and backing maneuvers and convenient navigation, it is installed with XM Radio and Available XM Navtraffic, Sideblind Zone Alert, Ultrasonic Rear Parking Assist. It is ready with the following gadgets and communications capabilities: DVD Entertainment System, Bluetooth, Rearview Camera System, Touchscreen Navigation System, and Onstar.
Safety
The excellent safety attribute of the Yukon is simply shared with the Yukon Hybrid. Federal government-conducted crash tests on front and side collisions performed yielded admirable results for the Hybrid as well. In fact, it offers 360 degrees of protection for maximum safety of all passengers making it a favorite among safety conscious car owners.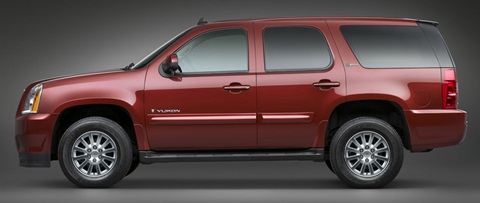 Hybrids are really for environment loving owners. With the Yukon, an individual, if not the whole family can leave behind minimum carbon footprint on its way. As global warming is apparently a global issue which necessitates individual participation on a global scale as well, every carbon monoxide emission that can be reduced if not totally suppress, goes a long way.
More Competition
Its corporate cousins but competitors at the same time, the Chevrolet Tahoe Hybrid (MSRP $51,145; 20 city / 23 hwy) is slightly lower in price, while the Cadillac Escalade Hybrid (MSRP $74,135; 20 city / 23 hwy) is the most expensive of the three.
Finally, in so far hybrids go, the 2011 GMC Yukon Hybrid is worth every hard earned dollar of the family. It affords the owner a large SUV capability, fuel economy, towing capacity, state of the art technology, plush interior, and everything else that a vehicle buyer could ask for.
Overall Rating


84 out of 100
What others say:
"The 2011 GMC Yukon Hybrid looks much like a standard GMC Yukon and allows about the same level of performance and comfort."Car Connection
"Impressive fuel economy in city operation; handsome cabin with solid build quality; comfortable ride; seats eight passengers."Edmunds
Specifications
General Info

| | |
| --- | --- |
| Vehicle Type: Hybrid SUV | Base Price: $51,610.00 |
| Fuel Tank Capacity: 24 gallons (90 liters) | MPG: 20 city / 23 hwy |
Dimensions

| | |
| --- | --- |
| Length: 202 in. (513 cm) | Width: 79 in. (200 cm) |
| Height: 76.9 in. (195 cm) | Wheel Base: 116 in. (294 cm) |
| Curb Weight: 5645 lbs (2560 kg) | Ground Clearance: 9 in. (22.8 cm) |
| Payload Capacity: 1471 lbs | Maximum Seating: 7 people |
Performance

| | |
| --- | --- |
| Engine: Hybrid Vortec V8 2WD | Displacement: 6.0 Liter |
| Horsepower: 332 HP | Max RPM: 5100 RPM |
| Torque: 367 lb-ft @ 4100 rpm | Transmission: 4-Speed Automatic |
| Max Towing Capacity: 6200 lbs (2812 kgs) | Maximum Speed: NA |
Available Trims & Engine

| | |
| --- | --- |
| Option:Yukon Hybrid 4WD | MSRP: $54,420; MPG: 20 city / 23 hwy |