As proof that good things can only get better, the Ford's Special Vehicle Team engineers have decided to take the Ford Shelby up a notch by developing this already powerful car into the 2011 Ford Shelby GT500. Some improvements that you need to look out for include an aluminum block engine, features for better driving dynamics and a better sense of fuel economy without having to sacrifice horsepower.

The all new aluminum block 5.4 litre supercharged v8 engine can produce up to 550 horsepower and a hefty 510 ft.-lb of torque, making it much more powerful than the 2010 model. What's surprising is that all this power comes from an engine that is essentially lighter than all its predecessors so you can expect better handling and steering precision, as well as acceleration in a lighter and sleeker package.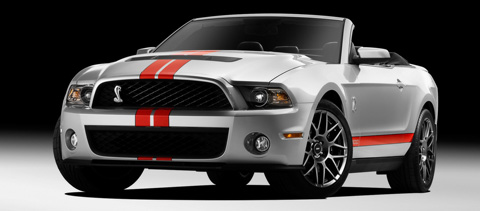 Aside from that, the Ford Shelby GT500 will also be equipped with improvements that are set to minimize noise, vibration and harshness which will then essentially make the drive much more comfortable, no matter what kind of road you take. This Shelby convertible is designed in a way that it's bound to become lighter, making you feel like you're driving a coupe instead of a convertible.