The 2011 Ford E-Series is one of the options for consumers looking for a passenger van. Those who want a vehicle that can transport many passengers and cargo will find good use of this vehicle.
The updates to the E-Series made it better but not that class-leading. But for customers who prioritize towing, the E-Series may be the best option. It has a towing capacity of 10,000 pounds which is 300 pounds more than that of the Chevrolet Express or GMC Savana.
Unless the space and towing capacity of the E-Series is absolutely necessary, reviewers advise consumers to consider minivans because they have lots of space for cargo and passengers but use less fuel than a work van.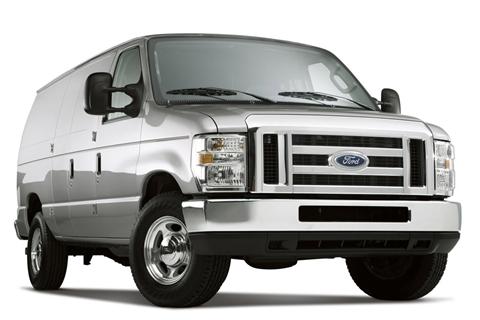 Performance
The 2011 Ford E-Series offers a choice between two models: the E-150 and the E-350. Both have a range of V8 or V10 engines. These engines can run on E85 (85 percent ethanol and 15 percent gasoline), pure gasoline, or any mix in between.
In the E-150, the base engine is the 4.6 liter V8. It makes 225 horsepower and 286 pound-feet of torque. Many reviewers point out that this certain engine is not up to heavy loads and that the better choice is the 5.4 liter V8, which makes 255 horsepower and 350 pound-feet of torque. In the E-350 model, the 5.4 V8 is the basic engine. However, consumers can opt for the 6.8 liter V10 engine capable of 350 horsepower and 420 pound-feet of torque. There are no diesel engines available.
Exterior
The E-Series' exterior design hasn't changed much from its 1992 design. It offers wide-opening rear doors and swinging doors on the passenger side as standard, while a sliding cargo door is optional. On the driver's side, there is only the driver's door.
Interior
One of the good points of the E-Series is its technological component. Features such as the Ford's Work Solutions and the SYNC system make the E-Series functional and entertaining, whichever the customer needs. Paired with a user-friendly console, these features make the E-Series good for family and business trips alike.
Ford's Work Solutions computer system is one good feature of the E-Series. Its in-dash computer developed by Magneti Marelli and powered by Microsoft Auto provides fast Internet access through the Sprint Mobile Broadband Network and Navigation by Garmin. The system can be fitted with tool tracking and fleet tracking capabilities. This makes the E-Series ideal for businesses that are in need of tracking and keeping in contact with its vehicles. This enables easier management and dispatch of multiple vehicles, which helps in saving time and fuel.
The E-Series passenger wagons' sitting capacity lets the user take up a number of passengers – a total of 12, or up to 15 in extended models. The cargo can models provide a standard seating for two but an optional second-row bench seat is offered. This optional seating is removable and does not compromise cargo space so much. It allows transport of an entire work crew, which helps save fuel in the long run for small businesses.
The cargo space of the E-series can go head-to-head with most competitors. While it cannot beat the cargo space of the Mercedes-Benz Sprinter, it is not as expensive and most consumers can fit their cargo in the E-Series just fine.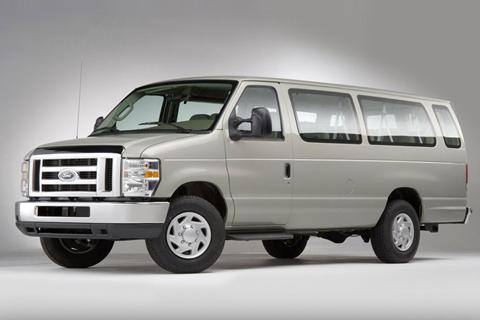 Safety
The E-Series only has the very basic safety features unlike other vans which have mostly upgraded safety features. Also, it hasn't been subjected to most federal government crash tests.
Reliability
The 2011 Ford E-Series scores quite high on reliability. It has a three-year/36,000-mile bumper-to-bumper warranty and a five-year/60,000-mile warranty. Some competitors have the same bumper-to-bumper warranty but a longer five-year/100,000-mile powertrain warranties.
The Competition
General Motors' Chevrolet Express (MSRP $28,710.00; 13 city / 17 hwy) and GMC Savana (MSRP $24,985.00; 13 city / 17 hwy) both feature an all-wheel drive and side airbags which the E-Series lacks.
Mercedes-Benz Sprinter (MSRP $39,820.00) offers diesel engine and has a 'High-roof' option available for more cargo. The E-Series beats it in towing capacity though.
Pros and Cons
The technology fitted in the 2011 Ford E-Series makes it ideal for business. It also has the formidable towing capacity that is not matched by other vehicles of the same type.
As for the disadvantages, the E-Series, being a work van, doesn't boast much on fuel economy. It is inferior in safety features. The lack of a diesel option and all-wheel drive function limits its versatility.
Overall Rating


72 out of 100
What others Say:
"Its roomy cargo bay is lower than that of the GM full-size vans or the Dodge Sprinter's."Consumer Reports
"Moving lots of cargo and people is what the E-Series does best, so if this is a priority for you or your business, the 2011 Ford E-Series is the vehicle for you. In addition to its gasoline-powered models, Ford also produces vans that can run on compressed natural gas (CNG) or E85."KBB
"Owners of 2010 E-Series Wagons complain mostly of dated styling and understandably poor gas mileage. Reliability, however, as well as capacious seating room, massive cargo space, scads of high-tech options, and a smooth ride top the list of owner kudos."Car Gurus
"The E-Series is available as a commercial van and as a passenger van, which can carry up to 15 people. Formerly called the Econoline, the E-150 competes with the Chevrolet Express and Dodge Sprinter."Cars.com
Specifications
General Info

| | |
| --- | --- |
| Vehicle Type: Commercial/Passenger Van | Base Price: $ 26,300.00 |
| Fuel Tank Capacity: 33 gallons | Miles Per Gallon: N/A |
Dimensions

| | |
| --- | --- |
| Length: 216.7 in. (550 cm) | Width: 79.4 in. (202 cm) |
| Height: 82.4 in. (209 cm) | Weight: 3260 lbs (1479 kg) |
| Wheel Base: 138 in. (351 cm) | Ground Clearance: N/A |
| Luggage Capacity: Max. Cargo Vol. 238 cu ft | Maximum Seating: 2/5 |
Performance

| | |
| --- | --- |
| Engine: 4.6L Triton® 16-valve flex fuel V8 | Displacement: N/A |
| Horsepower: 225 hp | Max RPM: 4800 rpm |
| Torque: 286 lb-ft @ 3500 rpm | Transmission: 4-speed automatic overdrive |
| 0-60 mph: N/A | 1/4 Mile: N/A |
Available Trims & Engine

| | |
| --- | --- |
| Option: E-250 4.6L Triton® EFI V8 | MSRP: $27,235; MPG: Varies |
| Option:E-150 Extended 4.6L Triton® EFI V8 | MSRP: $27,445; MPG: Varies |
| Option:E-250 Extended 4.6L Triton® EFI V8 | MSRP: $28,590; MPG: Varies |
| Option:E-150 Recreational 4.6L Triton® EFI V8 | MSRP: $30,630; MPG: Varies |
| Option:E-250 Recreational 4.6L Triton® EFI V8 | MSRP: $31,155; MPG: Varies |
| Option:E-350 Commercial 5.4L Triton® EFI V8 | MSRP: $31,395; MPG: Varies |
| Option:E-250 Recreational Extended 4.6L Triton® EFI V8 | MSRP: $31,830; MPG: Varies |
| Option:E-350 Commercial Extended 5.4L Triton® EFI V8 | MSRP: $32,295; MPG: Varies |
| Option:E-350 Recreational 5.4L Triton® EFI V8 | MSRP: $33,905; MPG: Varies |
| Option:E-350 Recreational Extended | MSRP: $34,890; MPG: Varies |