Out of 4 trucks analyzed, the 2011 Chevrolet Silverado HD ranks third. Although the car's standing is not quite impressive, it gained a lot of great reviews to most of its users. From its latter version, Chevrolet Silverado HD on its newest model greatly improved, according to most of the people who have used the car. It receives a serious overhaul on its 2011 version which affects most of its specifications, especially its engine. The Silverado HD is one of the most recommended vehicles for heavy duty work.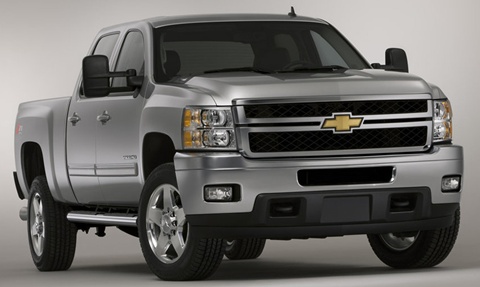 Performance
There are two engine options that people could choose when they purchase the 2011 Silverado HD, which are both great according to some previous buyers. The standard one is the Vortec 6.0 Liters gas-powered V8 which can create a 360 hp and 380 of torque. This engine performs pretty well and can give some real savings for car shoppers. However, getting an upgrade to use a Duramax 6.6 Liter V8 turbo diesel engine will not be bad idea for people who really want to have a blast on their ride. The Duramax engine can give an absurd strength of 397 hp and torque of 765 lb-ft. Those high numbers truly blew the minds of most of Silverado's users.
In addition from the car's two strong engines that people could choose from, some of the other great things that are improved on Chevrolet Silverado HD are its handling, braking, and towing abilities. The Silverado Chevy now provides a greater control on twist and turns on the road for drivers, using some of the new systems that are embedded on the car. It has auto press on its steering and a smart exhaust brake system which any one will surely loved. As a little extra on its performance, the company increased its towing capability which now can take a weight of up to 21,700 pounds.
Exterior & Interior
On the other hand, the thing that shoppers might not be happy about Silverado HD is its overall design. Some of the car's users was also impressed about the improvement on the Chevy's sheet metal exterior, but are very much disappointed with the retained plastic materials on its interior. The good thing about it is that the company offers to its customers some optional upgrades to its interior. Also, people might appreciate the very comfortable seats which are adopted from its previous version.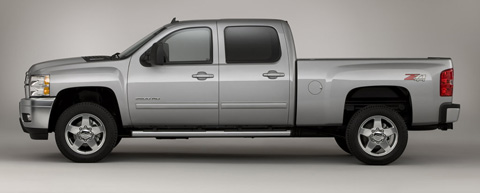 Safety
In terms of the safety of the car, the Chevy's Silverado HD is on clouds. The reason behind it is that no official boards have crash tested this model of car. But this doesn't mean that people can't trust the protection that this car can give. The company has installed some new systems that will improve the safety capability of the car. Some of those new features are rear parking assist, fog lamps, and side curtain airbags. Moreover, the car rated as 7 out 10 to its reliability which can assure that people will be safe using this Silverado Chevy.
The Competition
Compared to other trucks, there are certain areas that the Silverado HD did not fare well. In terms of interior, the Ford Super Duty (MSRP $31,690) surpassed it. Despite those facts, the Silverado HD still has an acceptable rating and still is one of the most sought after trucks.
To wrap it all up, the Chevrolet Silverado HD excels in performance and styling. On the other side, is poor choice in the use of plastic for its interior design has some people frowning.
Overall Rating


73 out of 100
What others say:
"Silverado HDs are surprisingly pleasant and manageable for such large, hefty vehicles. Straight-line stability is excellent, though Silverado's significant size and weight limit cornering speed, as does the expected big-truck body lean. Steering is well-weighted, direct, and responsive. "Consumer Guide
"Chevrolet accomplished its goal of giving the 2011 Silverado HD best-in-class capability. In terms of hauling and towing, it is a virtual tie with the Ford Super Duty."MSN Auto
"Notably improved with added capability, the 2011 Chevrolet Silverado 2500HD is an excellent choice for a heavy-duty truck."Edmunds
"If you are a satisfied past or current Silverado HD owner, you will love these much-improved new ones despite their mostly carryover styling."KBB
Specifications
General Info

| | |
| --- | --- |
| Vehicle Type: Truck | Base Price: $28,415.00 |
| Fuel Tank Capacity: 36 gallons (136 liters) | MPG: NA city / NA hwy |
Dimensions

| | |
| --- | --- |
| Length: 225 in. (571 cm) | Width: 80 in. (203 cm) |
| Height: 77.6 in. (197 cm) | Wheel Base: 133.7 in. (339.5 cm) |
| Curb Weight: 5595 lbs (2537 kg) | Ground Clearance: 9.8 in. (24 cm)front |
| Cargo Volume: 75.5 cu ft | Maximum Seating: 3 people |
Performance

| | |
| --- | --- |
| Engine: 6.0L 16-valve OHV V8 | Displacement: 366 cu in |
| Horsepower: 360 HP | Max RPM: 5400 RPM |
| Torque: 380 lb-ft @ 4200 rpm | Transmission: 6-Speed HD Automatic OD |
| 0-60 mph: NA | Max Towing Capacity: 13000 lbs (5896 kgs) |
Available Trims & Engine

| | |
| --- | --- |
| Option:2500 HD LT | MSRP: $31,260; MPG: NA city / NA hwy |
| Option:2500 HD Extended Cab | MSRP: $30,830; MPG: NA city / NA hwy |
| Option:2500 HD Crew Cab | MSRP: $32,830; MPG: NA city / NA hwy |
| Option:3500 HD Regular Cab | MSRP: $30,160; MPG: NA city / NA hwy |
| Option:3500 HD Extended Cab | MSRP: $33,235; MPG: NA city / NA hwy |
| Option:3500 HD Crew Cab | MSRP: $34,870; MPG: NA city / NA hwy |