The Chevrolet Camaro, true to its tradition as a muscle car, is quite an active participant on the drag racing circuit even during the first time it hit the streets. And the most hardcore of Camaro fans know about the COPO (Central Office Production Order), a special model released in the '60s specifically designed to compete in Stock Eliminator division of the NHRA Drag Racing circuit. Chevrolet has now revived the COPO name tag in the 2011 Chevrolet COPO Camaro Concept.
This concept managed to be a salute to Camaro heritage and a sneak peek on what lies ahead for the Camaro product line. While the COPO name tag serves to harken back to the time of the special order models of 1969, this concept is as track ready as it gets. In fact, this car is an obvious indicator that Chevrolet wants the Camaro to come back on the drag racing circuit.
Performance
The engine bay can accommodate 2 types of engines: a 5.3 liter supercharged engine and a 7.0 liter normally aspirated engine, both apparently tuned for drag racing purposes. Additional equipment include a full roll cage, a pair of lightweight seats, a Custom Aeromotive fuel system, a NHRA compliant suspension kit, racing brakes, and race ready tires.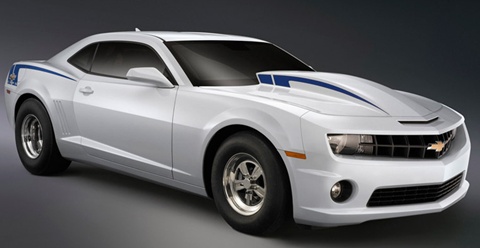 The 2011 Chevrolet COPO Camaro Concept is strictly business both inside and out. Even better is that it seems that the release of this concept into production seems to be more like a question of when than if. The drag-ready Camaro is about to return in action.