The Red Flash Show Car was created by Chevy to take the Camaro's look as well as its sound to the next level.
Chevy combines the available Chevrolet Accessory parts with new specially designed concepts in making the Red Flash Show Car. Gray stripes accented the show car's Red Jewel outer body color. It comes with 21-inch wheels with gray accents. The Red Flash's performance, style, and sound was improved by the air intake and exhaust kits from Chevrolet Accessory.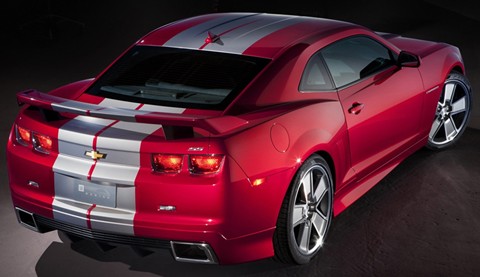 The Red Flash is also clad with high-wing rear spoiler with black stanchions and gray accents, and body-color ground effects, also from Chevrolet Accessory. The lowered suspension boosts its aggressive appearance.
The interior is mostly Ebony leather but the seats have red accents and titanium stitching. It has a Chevrolet Accessory racing pedal kit, floor and cargo mats, and racing style steering wheel with flat bottom. The foot-well, cup-holder lighting, and LED lighting in door trim are all in red.