Aerodynamic configuration, sleek interiors and exteriors and superior engine technology—and not to mention optimized torque. These are just a few of the tantalizing features of Mercedes' newest E class cabriolet, the Carlsson E 350 CDI. Taking the classic cabriolet to new and higher levels, the distinguished manufacturers of cutting-edge automobiles from Merzig, Germany, infused the E 350 CDI with design and engineering aesthetics that takes the breath of even the most jaded automobile enthusiast away.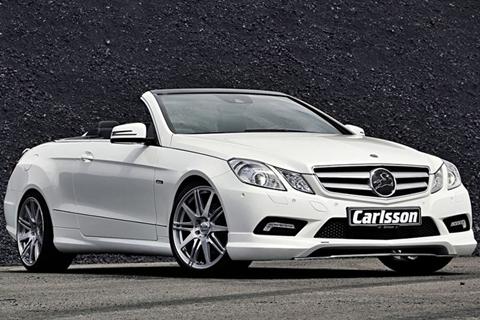 Common-rail diesel direct injection isn't what it used to be for Mercedes cabriolets when Carlsson packs the E 350 CDI with ECU C-Tronic® DIESEL POWER that propels a V6 engine to as much as 20% greater engine performance—from 231 hp (170 kW) to a chart-topping 280 hp (206 kW), paving the way for a massive maximum torque of 478 lb-ft. The optional ECU CD35 REVO that Carlsson custom-made for Mercedes E 350 CDI engines can be retrofitted at a price of 1,784 Euro (inclusive of VAT). Of course, Carlsson made sure that E-class cabriolet comes with luxurious interiors to match an elegant top-of-the-line engine.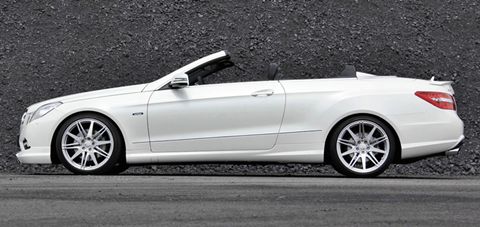 With velvety-soft floor mats etched with the Carlsson logo (154 Euro for the entire set), the leather and Alcantara automatic gear shift lever (213 Euro), door pins made of aluminum (58 Euro) and pedals cast in aluminum plus foot rests (282 Euro), the sporty yet elegant aesthetic of the E-class cabriolet is a thrilling experience inside the automobile's interiors for passengers. Improved traction through suspension springs (355 Euro) allows this stunning Cabriolet to manage full flexibility at maximum throttle—the icing to the cake of decadent yet action-packed automobile travel.