Brabus takes pride in its new Mercedes SLS AMG as one of the fastest and enjoyable cars that is lightweight and easy to drive.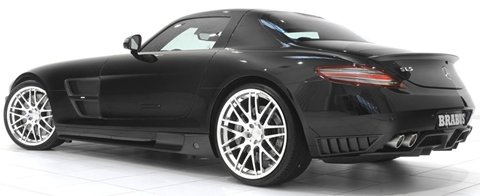 The Mercedes SLS is built from aerodynamic enhanced parts made entirely of carbon fiber identical to the material used for Formula 1 racing car components, designed to give the car a more striking appearance as it gives optimal aerodynamic performance. A new Brabus front spoiler is also added to reduce lift on the front axle at high speeds for better directional stability.
The Brabus Mono-block F Platinum edition cross spoke wheels are lighter than stock wheels, meaning better performance, which is custom made to match the Mercedes SLS' distinct profile. The car also features the smooth ride suspension that can adjust the height of the sports car up to 40 millimeters and offer several driving modes depending on setting and terrain.
And while modifications for the car's 6.3-litre V8 engine is still in its final development phase, with a promising prospective speed of up to 400 km/h, the many new features promised in the new Brabus Mercedes SLS AMG is definitely has the quality standards the automotive world can look forward to.