The new Brabus Widestar version of the Mercedes SLS AMG lends a sleeker and more dominant impression to the exclusive automobile with an extravagant carbon fiber body, customized wheels, titanium exhaust system and electronically controlled sounds and driving mechanisms for a smoother, pleasurable ride.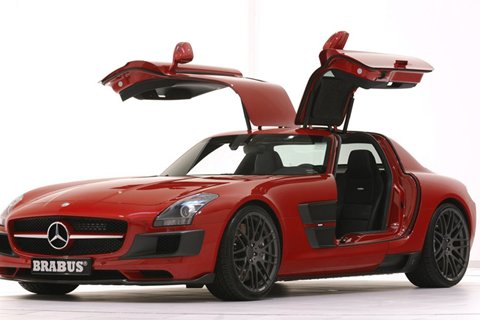 Brabus designers have developed custom made Brabus Widestar components for the vehicle, particularly in the rear from the lightweight yet very durable carbon fibers used in high performance Formula 1 racing cars. The redesigned rear fenders, diffuser, front spoiler, and front bands results into reduced lift on the front and rear axle for better aerodynamic balance. And while the Mono-block F Platinum edition wheels of the Brabus Widestar are bigger than other tires, they are the custom made to be ultra-light and being up to 12 percent weight reduction compared to other SLS production wheels for better speed.
The Brabus Widestar also comes with the electronically adjustable Ride Control system for flexible vehicle height adjustment and smoother riding modes. With these features and more customizable technical and design options available, the Brabus Widestar promises to offer more than any other car.