With the new 2011 Brabus Mercedes iBusiness, Brabus guarantees the perfect combination of automotive performance with high-tech multimedia gadgets in a luxury sedan. In terms of driving, the Brabus Mercedes iBusiness boasts a speed of 450 km/h with its Brabus SV 12 R Biturbo 800 twelve cylinder engine with a 6.3 liter displacement power that can go up to 800 hp/ 588 kW and a peak torque of 1,420 Nm.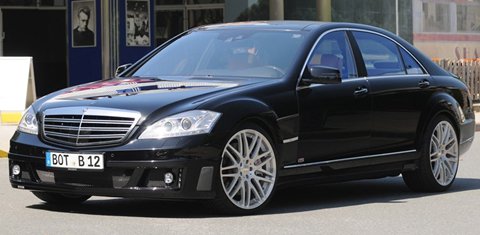 The car has been tested to accelerate from 0 to 100km/h in 3.9 seconds and reaching 200 km/hr in 10.3 seconds. The cooling system has been improved with custom fit high performance manifolds and four water-to-air intercoolers, and sill skirts with integrated entrance lights added for optimal airflow around the sides of the vehicle.
And as for entertainment, the Brabus iBusiness is one of the best of its kind because of its innovative and high end multimedia suite onboard in collaboration with the latest Apple devices, including two iPads that play music, multimedia files and internet content as well as function as an S-Class COMAND system, a Mac minicomputer centerpiece with a 15.2-inch TFT display and USB ports, internet connection via HSDPA and UMTS and an 64 GB Apple iPhone that can store and play more than 14,000 songs. Of course, the Brabus iBusiness conforms to safety and quality standards to make the ride on the luxury sedan both a driving and a multimedia entertainment pleasure.