The 2011 BMW 7-Series has become one of the world's best selling luxury cars since its introduction 30 years ago. Today, the 7-Series awakens softly, but drives powerfully with its state-of-the-art technology together with sophisticated equipment designed for classic, yet contemporary styling. It has a central dynamic four-wheel steering system, damper control and automatic transmission providing driving comfort, which is without comparison in its class. It has an exceptional engine smoothness and excellent display of power. All these provide ample amount of comfort.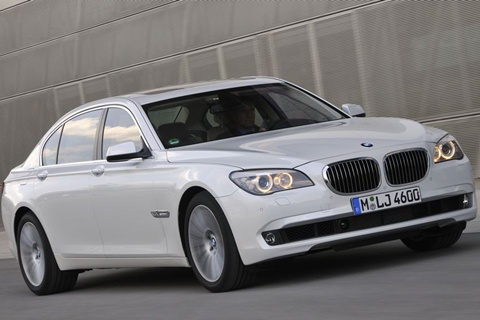 Performance
There are four engine choices for the 2011 7-Series. The 740i and 740Li models have twin-turbo six-cylinder engines, the 750 models with V8 engines, while the 760 model having a powerful V12 engine. Their turbochargers produce 315 to 535 HP at 5,250 to 5,800 RPM, and 330 to 500 pound-feet at 1,500 to 1,600 RPM of torque. Its city/highway fuel economy ranges from 17/24 MPG to 13/19 MPG.
Interior & Exterior
Inside, the 7-Series are quality materials and standard electronic features. The cabin was luxuriously design, too. It is roomy with plenty of passenger space. Its exterior measures 74.9 inches width, 58.3 inches height, 199.8 inches length, 63.4 inches front track, 65 inches rear track, and 120.9 inches wheel base. Its cargo capacity with all seats in place is 14 cubic feet. It weighs 5455 lbs, but can seat 4344 lbs of weight – a considerably bulky super luxury car. For comfort, it has an interior active charcoal air filter, extended cabin heating, 4-zone climate control, sun sensor, front and rear reading lights, dual illuminating vanity mirrors, and electro chromatic rearview mirror.
Safety

Normally, super luxury cars are not crash tested and so, the 2011 7-Series has not been crash tested yet. However, it is equipped with stability and traction control, standard anti-lock brakes, and airbags at the front, front-knee, front-side, and side-curtain areas. Front seat passengers also have active head restraints. There are also optional safety equipment which includes blind spot monitoring, rear and side-view cameras, adaptive cruise control with a collision warning system, and infrared night vision system. BMW also offers a 4-year/50,000-mile warranty which includes roadside assistance and scheduled maintenance.
Competition
The 2011 BMW 7-Series has been compared to the Mercedes Benz S-Class (MSRP $91,000; 19 city / 25 hwy), Audi A8 (MSRP $78,050; 17 city / 27 hwy), Lexus LS 460 (MSRP $67,130; 16 city / 24 hwy), and the Porsche Panamera (MSRP $74,400; 18 city / 27 hwy). The first of these has more standard interior equipment, luxurious cabin, and a superior balanced ride. The Benz also offers a more potent engine. When the road gets tortuous however, the 7-Series is still the top choice. BMW also offers a lesser price. On the other hand, the Panamera would have been a better choice, too. It's just that, the 7-Series can seat more. Moreover, as compared with these top super luxury vehicles, the 7-Series sits at number 3.
Pros & Cons
The 7-Series ensures its fans the variety of powerful and smooth engines, excellent handling, extreme long-distance capability, magnificent seats, and superior maneuverability of four-wheel steering. This may not be the car for everyone, but for premium luxury car seekers, this is the one to look for.
BMW's 7-Series has also earned positive reviews. For its performance, it can offer higher efficiency because it has returned its use of 6-cylinder engines. It also scores high in fuel efficiency compared to others like it. And despite its bulk, it can still provide comfort and enables the driver to choose from suspension settings to customize the car's handling techniques.
Although the 2011 7-Series has all these high tech features, others of its kind from competitors have better interior materials. They also a have a more calm ride. Another notable disadvantage of the 7-Series is its lack of rear-side impact airbags. Regrettably, it was available on its previous generation.
Overall Rating


86 out of 100
What others say:
"Call us converts: The latest BMW 7-Series turns our eyes more than ever and drives with real big-guy brio."Car Connection
"Fine in normal driving, but full-throttle takeoffs start with a somewhat timid launch followed by a strong surge as the turbos get cooking. This somewhat non-linear throttle response makes for unwanted lurching in around-town driving."Consumer Guide
"Variety of smooth and powerful engines, standout handling, supreme long-distance capability, sublime seats, enhanced maneuverability of four-wheel steering."Edmunds
Specifications
General Info

| | |
| --- | --- |
| Vehicle Type: Luxury Sedan | Base Price: $71,000.00 |
| Fuel Tank Capacity: 21.7 gallons (82 liters) | Miles Per Gallon: 17 city / 25 hwy |
Dimensions

| | |
| --- | --- |
| Length: 199.8 in. (507 cm) | Width: 74.9 in. (190 cm) |
| Height: 58.3 in. (148 cm) | Wheel Base: 120.9 in. (307 cm) |
| Gross Weight: 5445 lbs (2469.8 kg) | Curb Weight: 4344 lbs (1970 kg) |
| Luggage Capacity: 14 cu ft | Maximum Seating: 5 people |
Performance

| | |
| --- | --- |
| Engine: 3.0L 24-valve DOHC inline-6 TwinTurbo | Displacement: 2979 cc |
| Horsepower: 315 HP | Max RPM: 6000 RPM |
| Torque: 330 lb-ft @ 1600-4500 rpm | Transmission: 6-Speed Shiftable Automatic |
| 0-60 mph: 5.8 seconds | Top Speed: 150 mph |
Available Trims & Engine

| | |
| --- | --- |
| Option:740Li | MSRP: $75,500; MPG: 17 city / 25 hwy |
| Option:750i Sedan V8 | MSRP: $84,300; MPG: 15 city / 22 hwy |
| Option:750Li Sedan V8 | MSRP: $88,200; MPG: 14 city / 21 hwy |
| Option:760Li Sedan V12 | MSRP: $137,300; MPG: 13 city / 19 hwy |