Prior Design revealed their most recent work just in time for the industry trade fair "Tuning World Bodensee". For your approval and consideration: we present the PD-Series based on the Mercedes-Benz SL R230.
The goal of the Kamp-Lintfort company was to transform the seemingly bulky Mercedes-Benz SL R230 into something more ideal and appealing. Thus, they came up with a design clearly inspired by the Mercedes-Benz SL65 AMG Black Series. This new aesthetic package for the SL R230 is comprised of a smooth and sleek form, huge air intakes and powerfully built sides to impress every enthusiast to date.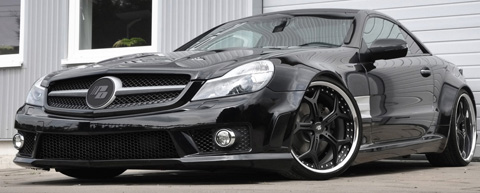 Looking at specific elements, let's start with the front of the vehicle. The first thing that will catch any viewer's eye is the incomparable breadth of the vehicle granted by the awe-inspiring size of the fenders. From the fender of the car, the eyes are drawn to the front area using smooth lines. After examining the facelift headlights equipped on the car, the viewer will then notice a front mounted spoiler with big, imposing air intakes. The hood is also equipped with several air intakes reaching up into the windshield, supplying much needed air to racing tuned engines.
Large rims making up the side area of the car give the vehicle an intimidating look commanding recognition. Side skirts are expertly placed to connect the sides making it seem as if the entire body work of the vehicle was made to form a single piece.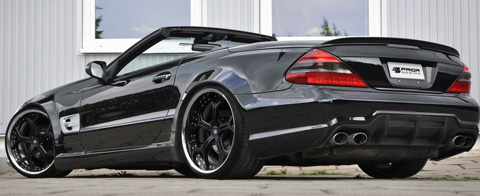 Checking out the car further will inevitably bring the viewer to the rear of the car, where the curve of the fenders gives an impression that the SL R230 is incredibly broad and spacious. The two rear fenders are connected by a flawlessly contoured rear bumper, where one can find a diffuser available either in full or slight carbon fiber.
A unique wheel tire combination set has been custom-made for PD series. Each rim is made from a three-part stainless steel outer bed with a black finish. The two front tires are measure 10×20 inches with 265/30 R20, while the rear tires measure 12×20 inches with 305/25 R20.
Suspension settings can be fully customized by the driver, mechanically or electronically, using an incorporated Airmatic system.