In honor of the National Aerobatic Team, Frecce Tricolori, who is celebrating their 50th anniversary, Horacio Pagani unveiled his latest masterpiece, the 2010 Pagani Zonda Tricolore, as a tribute to this nine-plus-one demonstration team of the Italian Air Force. The team is based at Rivolto Air Force Base in the province of Udine. They will be celebrating their 50th anniversary in September 11 and 12 of 2010.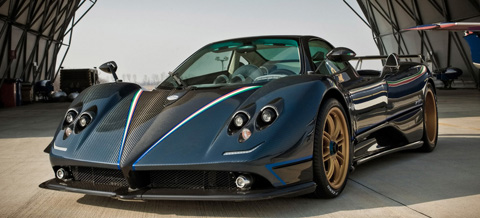 This exquisite piece of work is powered by a Mercedes Benz AMG 7.3-liter V-12 engine that delivers 670 horsepower and has a torque of 780 Nm. Pagani spared no expense in building the car. The body is mostly built of titanium, carbon fiber and magnesium, and is painted navy blue with red, green and white stripes running down the hood. It also boasts of a six-speed sequential gearbox by Cima which is robotized by Automac engineering, and carbo-ceramic self-ventilated brakes by Brembo. The 2010 Pagani Zonda Tricolore's wheels and interior are both an impressive sight, with the former painted bright gold and the latter a cool green.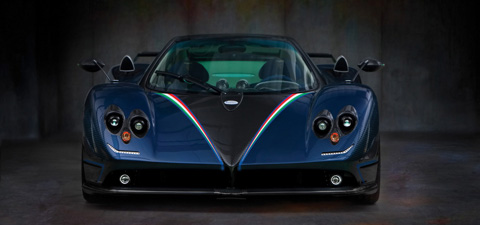 With the tremendous amount of power packed in this beautiful car, Horacio Pagani says that his masterpiece can move from 0 to 100 km in about 3.4 seconds and 0 to 200 km in approximately 9.6.