A super car that strikes a perfect balance between a luxurious ride, and a sports car. That very well describes the 2010 Mercedes-Benz SLS AMG E-Cell. Built for the rich, the car has a zero-emission high-tech drive-train. The SLS AMG E-Cell can produce an astounding power output of 526 horsepower and deliver an amazing 860 Newton meter of torque.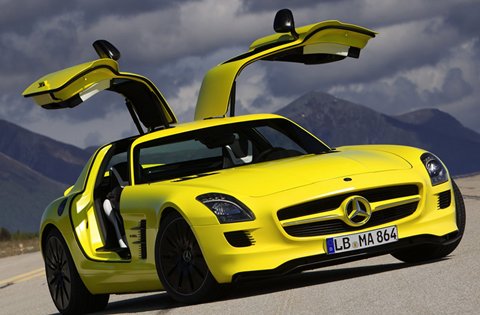 The high-voltage gull wing model is powered by a liquid-cooled lithium-ion battery with a modular design. One who slips behind the steering wheel of the 2010 Mercedes-Benz SLS AMG E-Cell will find the effortless driving experience exhilarating.
Company insiders have expressed that their goal is to keep reducing the fuel consumption and emissions of models that will be churned out in the coming years. For now, the SLS AMG E-Cell is one riveting package. Everything from the LED headlamps to the opulent interior appointments and outrageously aggressive performance, plus the eco-friendly advantage, make the 2010 Mercedes-Benz SLS AMG E-Cell a must-have car.