The 2010 Manhart Racing BMW Z4 V10 is a blast to drive. The Z4 is heftier than its predecessor (the BMW Z3) and features a significantly stiffer chassis. Transplanted with a new & stronger heart, the luxury car with gorgeous dimensions and overall distinctive styling commands interest.
The car is available as a roadster with convertible top. The other option is a sports coupe with a fixed roof. With its elegantly chiseled exteriors, elongated hood, and conventional front-engine/rear-drive layout, the BMW Z4 model which has the name of Günther Manhart (who may be credited for more than 25 years of rebuilding BMW engines) attached to it can deliver unparalleled performance. By fitting a small roadster with the V10 engine from the M5 saloon, the BMW design team made a breakthrough. The result is an exciting revolutionary machine breathing the fire of a powerful engine and making an impressive 550 horsepower. The BMW Z4 also regained its six-speed manual transmission, clutch and differential.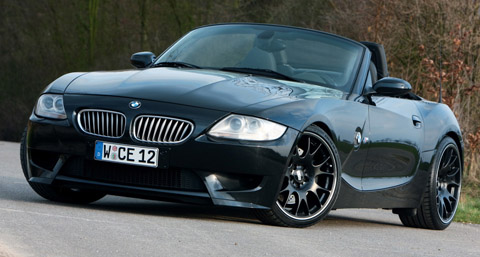 Along with its enhancements, the new BMW Z4 comes with a new set of tires and wheels to match its fabulous look and mighty capabilities, all within a trim 1,450 kilogram frame. Blaze away in the BMW Z4 which can chalk in 3.9 seconds covering 62 miles per hour.