The city streets will never be the same again once the 2010 Hurst Camaro Series 5 hit the roads with tire-burning speeds and flashy face that will surely be buried deep in automotive history.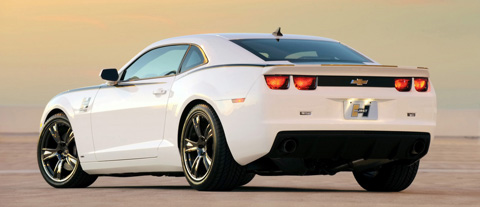 The 2010 Hurst Camaro Series 5 is highlighted by a powerful Hurst/Magnuson supercharger that generates lots of horsepower. The body design is obviously centered on speed. The Hurst has a specially designed AIR-SPEED rear deck spoiler that spells 'fast,' while the monstrous 20" x 9" and 20" x 11" alloy wheels finished in black chrome are dazzling and assuring of great road grip and on-road precision. A Hurst/Competition Plus shifter keeps the vehicle powered along the right channels, while the Eibach suspension system keeps it on the right track.

The vehicles of course are done with the signature white and gold colors, only with an interesting detail of subtle dusting of gold mica against white, and gloss black graphics lined with gold stripe. Inside, the Hurst car carry the iconic graphite leather stitched with gold and set with HURST logos. The floor mats are also embroidered, and there is the numbered dash plaque. The Hurst Camaro Series 5 units are in both automatic and manual drive, with a shift handle from HARD-DRIVE.