One of America's best known automotive brands has upped the ante with the launching of the 2010 Chevrolet Camaro KW Variant 3. This vehicle will appeal to auto connoisseurs who like cars with a retro appeal. The new Camaro's classic long bonnet is tempered by an aggressive front section. The car is fitted with an engine with 3.6 and 6.2 liters cubic capacity and comes with a rear wheel drive.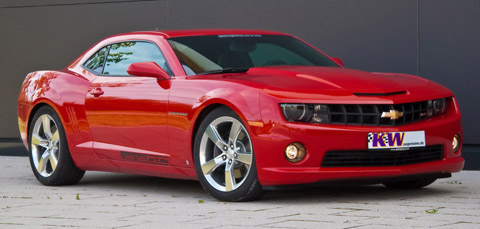 The great news about the new Chevy is that even when the car cruises rough terrain, driving comfort is not compromised. The KW coilover suspension Variant 3 ensures superb performance. The brawny car with a short deck and fat fenders can tackle curve speed and offer more precise steering communication and cornering dexterity.
This car is ideal for a pleasurably safe & smooth fast drive, whether it's along the highway, back country roads, or the city. Acceleration is quick. Powered by a direct-injected 3.6 liter V6 engine that makes 304 horsepower and 273 pounds of torque, the new Chevy Camaro that looks old-fashioned on the outside reflects modern technology on the inside. Hands-free Bluetooth phone support comes standard in the 2LT. This trim level comes with 19-inch alloy wheels. The LT likewise features elegant heated bucket seats with power recline and snug rear seats. The vehicle is available with six speed manual or automatic transmission.