TECHART presents another car that has several new features like two Aerokits, daytime running lights, one sport springs set, and a package of a carpet interior. TECHART's goal is to enhance other options in exterior and interior areas that would respond to the need of individual exclusivity of their clients.
TECHART's Porsche Boxster has a new Aerokit I+II that are already verified in a wind tunnel to ensure its capability to maximize its drag coefficients. Also, its downforce is very high in both axles. The Aerokit components are façade spoiler that has a lip that fit the car frame's color, side sills and the rear area that were optimized both in designs and aerodynamics. The fixed rear spoiler and the rear apron with a diffuser are perfect maintaining stability even at maximum speeds. The light system is also developed such that it easily adjusts to the selected lights setting.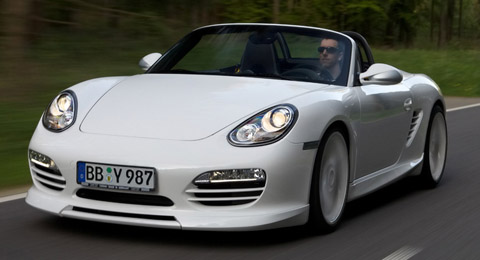 The chassis of boxster is a 19-inch aluminum wheels that is efficient is transmitting the power of a 2.9 liter engines. The TECHARTS's Vario and Vario Plus threaded suspension chassis are able to lower the car up to 30 mm during assembly. The client can also choose to a variety of interior design for the car. He/she can demand to equip the car with the premium leather and a stylish seam with a variety of colors. There are also additional accessories that are readily available if the clients would like to have it like the aluminum sport pedals, a 3-spoked sport steering wheel, and illuminated entry sills with logos.