Pagani, the Italian super car that relies on Mercedes Benz' power plant manufacturing has recently released another brand new roadster Zonda R version. The introduction of the Pagani Zonda Cinque Roadster to the market is well-received, and similar to its coupe sister, Pagani only produced 5 units and was sold at a 1.3 million Euro price tag ($1.85 million). It is also patterned after the Modenese Atelier.

Performance
This super car, made of carbo-titanium material (carbon fiber weaved with titanium threads), features a hand built super twin engine that are turbocharged AMG v12 machines. This makes up to 678 horsepower of traction. The rocket ship inspired car accelerates to 60 kilometers per hour in only 3.4 seconds. Consequently, it also hits 200 kilometers per hour in less than 10 seconds. Overall, its top speed reaches 217 miles per hour. This coupe version features ceramic-coated exhaust system with a titanium framework. Basically, this is the same aluminum/magnesium that the rims are made of. The car also has maximum side acceleration of 1.45 G already with the road tires.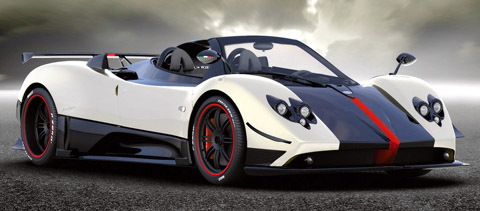 Its Brembo brakes are self ventilated carbo-ceramic material with hydraulic servo brakes. The down force of the car is at 300 kilometers per hour at 750 kg. Pagani used all weight reduction measures to basically improve the performance, driving pleasure and emission features that many racers have found very convincing in the model of Cinque Roadsters.
Exterior
The car's chassis is built with carbon titanium finish and was redesigned in order to compensate for its lack of roof. The enhanced features of the Cinque are further emphasized with its roof stored in its front bonnet. The car seats are also made of Pagani leather cum carbon fiber material.
Weight distribution while driving is at 47% in front and 53% at the rear. Horacio Pagani and his mechanics exhibit their mastery of art and engineering in the new Zonda Cinque Roadster. If you choose to drive around with the Cinque, you will discover its ultimate performance and daily drivability very convenient due to its various drive modes resting in the adjustable suspension setup and sequential robotized gearbox.

More
It is fascinating to drive a car that weighs 1,210 kilograms in open air roads, knowing that only you and four others are the only ones who are kept in awe with its reliable performance and durability. This limited edition super car packs all the good stuff that one wishes of a dream car. On recent road tests by car professionals, it has been dubbed the best of the Zonda series due to its automated gearbox which cannot be found in other non-Cinque units. It may look racecar low to many drivers but it certainly copes well with an imperfect tarmac. Gear changes have been remarkably better too. With just five manufactured by Pagani, this model will be the swansong for the Zonda lineup. It is certainly worth its price and will never disappoint one's expectations of a super car.
Specifications
General Info

| | |
| --- | --- |
| Vehicle Type: Super Sport Coupe | Base Price: $1,850,000.00 (Euro 1.3 million) |
Performance

| | |
| --- | --- |
| Engine: Mercedes Benz AMG Turbo V12 | Displacement: 444.9 cu.in |
| Horsepower: 678 HP | Max RPM: 6150 RPM |
| Torque: 780 lb-ft @ 4000 rpm | Transmission: 6-Speed Cima Robotized |
| 0-60 mph: 3.3 seconds | Top Speed: 217 mph (349 km/h) |
Pagani Zonda Cinque, Zonda F and Porsche 911 GT3 '09 at an Auto Show