The 2009 Maserati GranTurismo MC will be launched in the FIA GT European Championship series.
The Maserati GranTurismo MC will be launched marking the 2010 GT4 Championship and other series. A limited version of the cars would be manufactured and the price of the car is 135,000 Euros excluding VAT.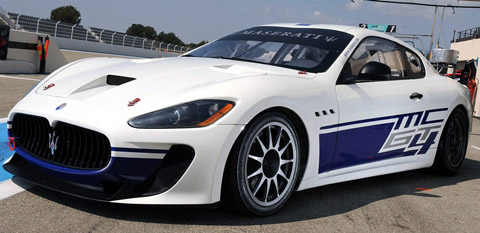 The 2010 Maserati has been tested a number of times by a number of drivers making it fit for the 2010 GT4 European Cup. The tuning works have been tested by Andrea Bertolini, Maserati tester along with Thomas Cremonini and Michael Bartels who was the 2008 FIA GT champion.
The Maserati has a history of winning the Indianapolis 500 Mile Race in the years 1939 and 1940. It also won the 1954 and 1957 F1 race which was driven by Juan Manuel Fangio. During the 1950s and 1960s, the Maserati recorded a number of Endurance races and the last victory of the Maserati was in the year 1967 which was driven by Pedro Rodriguez. Also in the years 2005, 2006 and 2008, it marked three victories in the Spa 24 Hours.

Specifications
Vehicle Type: – race car, two doors coupe
Configuration: – Front Engine/ RWD
Engine: – V8
Displacement: – 4691 cc
Transmission: – 6-speed Paddleshift
Horsepower: – 412 bhp @ —- rpm
Width: – 75.4 in
Length: – 194.3 in
Height: – 51.2 in
Weight: – 3085 lbs
Wheelbase: – 115.8 in