BMW has launched a new Z4 series Roadster which looks stylish and more powerful than the previous models. The roadster consists of a two piece retractable hardtop roof, rear axle where the seating position can be moved closer to it and a rear wheel drive. The Z4 is of latest technology with a two seating capacity.



Retractable hardtop
The retractable hardtop is of less weight which is made of aluminum shells; this roof can be opened and closed in just 20 seconds with a single button touch. This roof can be operated with a switch or an additional remote. It has an impressive aerodynamic and acoustic qualities, the rear windows are about 52% large and the side windows are about 40% large compared to the previous versions. The rear window consists of an electric defroster and the side windows can be lowered individually.
Interiors
The air conditioning and light controls are placed on the left and right sides of the steering wheel, these essentials are made of Ash Grain wood, Satin Silver matte and brushed Aluminum. The seats of the BMW Z4 sDrive35i are made of Kansas leather. In addition, Ivory White Nappa leather is available based on the interest of the customer.
6-speed transmission
The BMW Z4 versions are provided with a standard 6-speed manual gear box, the gearbox in this car is of less gearshift where gears can be changed easily compared to the previous models.
Dynamic Drive Control (DDC)
This mode helps the driver choose the ways of driving according to road conditions. This mode is operated by a button that is located at the gear selector. After pressing the DDC, there are three different modes which are Normal, Sports and Sports+.
Brakes
The brakes in this car are a sophisticated high performance brakes, which is of less weight. Also the car is the first to contain an electrical parking brake which can be operated by a button.
iDrive
The car contains an iDrive control system which is a part of navigation system. Telecommunications, information, entertainment and navigation can be activated in this system. There is an 80GB hard disc that is installed inside where 15GB can be used for music.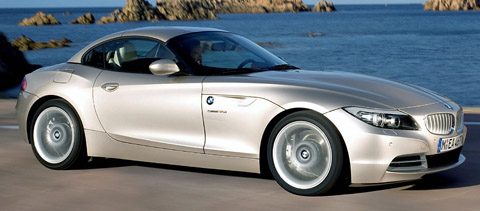 Specifications
• Vehicle Type: – production car, with two doors
• Configuration: -Front Engine/ RWD
• Displacement: – 2979 cc
• Engine: – Twin Turbo Incline-6
• Torque: – 300 lb-ft @ 1400 rpm
• Horsepower: – 300 bhp @ 5000 rpm
• Steering: – power assisted rack and pinion
• Transmission: – 6-speed Manual/7- speed Automatic (optional)
• Weight: -3450 lbs
• Height: -50.8 in
• Length: -166.9 in
• Wheelbase: – 98.3 in
• Width: – 70.5 in
• 0-60 mph: – 5.0 sec
• Top speed: -150 mph