The 2009 BMW Vision EfficientDynamics is an interesting technological marvel. It evokes dynamism and carries the evocative appeal of its bloodline, while setting new standards as a luxury hybrid vehicle. Conceived as a plug-in hybrid car, the BMW Vision EfficientDynamics emits fewer emissions and is fuel-efficient. It's the embodiment of a sustainable vehicle.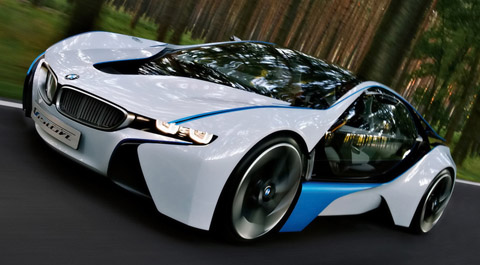 In terms of design the super car highlights efficiency in a sports car. It was envisioned as a two-seater mid-engined coupe with improved aerodynamics. The hybrid vehicle's powertrain can pull off a fuel consumption of 62.6 mpg. The revolutionary car is powered by a turbo-diesel three-cylinder engine and two electric motors. The car has a wonderful chassis and suspension. The roof and door inserts of the car are made of polycarbonate glass which makes them grow dark in response to incoming light. With 356 hp, this machine can reach 60 mph in 4.8 seconds and obtain a top speed of 155 mph.


On the outside, the BMW Vision EfficientDynamics looks futuristic with its curvy, flowing design. Remarkable gullwing doors open up to the side. The interiors of the luxury green car are also well thought out. There's ample space for cargo, and the rear seats can be tilted down for even greater space. From its innovative light technology to interior details like the on-board computer & other techno features, to its green features, the BMW Vision EfficientDynamics is simply breathtaking.