Katech Performance has added to their collections of Corvette a new model, the Katech Corvette Z06 made for the track. The Corvette Z06 ClubSport package is available from Katech Performance and Les Stanford Chevrolet – incorporating a wide variety of aftermarket products, in addition to a reduced curb weight to 2,915 lbs, improving on its grip, cornering, braking and down force.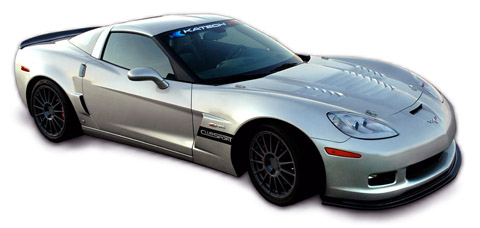 "The Z06 is already wonderfully light weight," commented Jason Harding, performance parts sales, Katech Performance. "We knew, however, that we could improve the power-to-weight ratio with several select modifications." Katech's Performance Appearance Package lets its consumers with a matching carbon fiber rear spoiler to improve on down force; lift-off carbon fiber World Challenge hood vents in the engine compartment, reducing the weight by 50% to provide more down force.

Several other optional supplements that I would recommend to add to this car would be: Caravaggio leather race seats; A/C and/or radio delete and also a roll bar or harness bar and six-point harnesses. A power-to-weight ratio of 5.45 lbs. /horsepower making this a not the last good thing, completed with a 12-month/12,000-mile warranty, the Katech Performance Z06 ClubSport starts at $109,000 and is expected to maintain 50-state emissions compliance.
Katech Corvette Z06 ClubSport Review and Test Drive