The 2005 Chrysler Firepower Concept is a high performance two door coupe.
The Chrysler Firepower features a 6.1 L HEMI V8 engine. The capacity of the engine is 6059 cc and it delivers an output power of 425 bhp at 6200 rpm and 420 lb-ft torque at 4800 rpm. It reaches the speed of 60 mph in 4.5 seconds and the top speed is about 175 mph. The Chrysler Firepower features specially designed five speed Auto-Stick transmission and the gear shifts can be performed easily.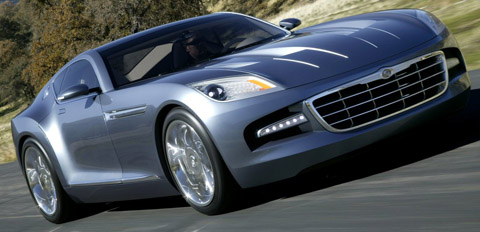 The Chrysler Firepower features the large billet aluminum wheels with high performance braking system. The front wheels measure 19 inches and the rear wheels measure 20 inches.
The Chrysler Firepower is painted in Hydro Silver Pearl and the exteriors feature the mirrors, stylish body structure, headlights and tail lamps. The interiors feature the sporty leather seats, steering wheel, control knobs, audio system and automatic climate control system.
Specifications
Vehicle Type: 2-door coupe
Configuration: Front Engine
Engine: 6.1 L HEMI V8
Capacity: 6059 cc
Power: 425 bhp at 6200 rpm
Torque: 420 lb-ft at 4800 rpm
Transmission: 5-Speed Auto-Stick
0-60 mph: 4.5 seconds
Top speed: 175 mph