The 2005 Chrysler 300C SRT-8 is a four door sedan and delivers high performance compared to the Chrysler 300C.
The Chrysler 300C SRT-8 features stylish body structure, modified front and back looks that allows air flow for the cooling of the brakes. It also features a specially designed rear spoiler that increases the downforce at the rear by 39%.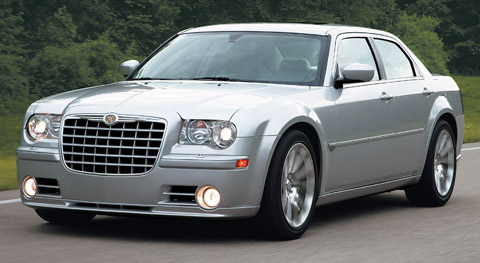 The Chrysler 300C SRT-8 features a V8 engine with a capacity of 6059 cc. The engine delivers an output power of 425 bhp at 6200 rpm and 420 lb-ft torque at 4800 rpm. The Chrysler 300C SRT-8 reaches the speed of 60 mph in 4.9 seconds and it features 5-speed automatic transmission and the gear shifts can be performed easily at higher speeds.
The Chrysler 300C SRT-8 features 20-inch aluminum wheels wrapped with specially designed high performance Goodyear F1 tires. The wheels feature four piston Brembo calipers on all the wheels that ensure safety braking. The car also features specially designed braking system that stops the car safely even at higher speeds.
The car is available in both Brilliant Black and Bright Silver colors. The exteriors feature the stylish body structure, color mirrors, door handles and body color grille. The interiors feature the sporty steering wheel, instrument panels, leather seats, navigation system, and audio system.
Specifications
Vehicle Type: 4-door sedan
Configuration: Front Engine
Engine: V8
Capacity: 6059 cc
Power: 425 bhp at 6200 rpm
Torque: 420 lb-ft at 4800 rpm
Transmission: 5-Speed Automatic
Weight: 4160 lbs
0-60 mph: 4.9 seconds
Price: $39,995