The 2005 Brabus SLK 6.1 S is a two door convertible which gives high performance, comfort, and smooth driving.
The Brabus SLK 6.1 S features a 6.1 L V8 engine with longer bore and stroke. The capacity of the engine is 6034 cc and it delivers an output power of 445 bhp at 6000 rpm and 469 lb-ft torque. The Brabus SLK 6.1 S reaches the speed of 60 mph in 4.2 seconds and the top speed is about 189 mph. The Brabus SLK 6.1 S features seven speed automatic transmission and the gear shifts can be performed easily at higher stress.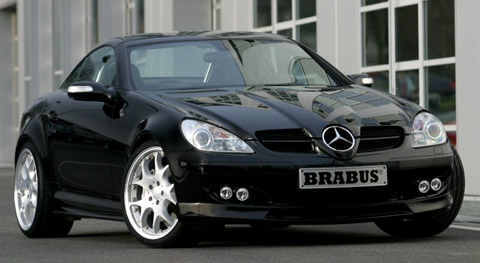 The specially designed rear suspension of the car reduces the cars height and the front spoiler features four auxiliary headlights that gives a striking looks to the car. In addition the door handle activates the entrance lights by the touch of a button which is operated by a remote control.
The Brabus SLK 6.1 S features 19-Monoblock light alloy wheels wrapped with a choice of high performance Michelin or Pirelli tires. The wheels feature vented discs on all the wheels with six piston calipers on the front and four piston calipers on the rear wheel that ensures better and safety handling of the car at higher speeds.
The interiors are finished with carbon fibre, Mastik and Alcantara leather and it features the leather seats and sporty steering wheel wrapped with a choice of Alcantara leather or carbon.
Specifications
Vehicle Type: 2-door convertible
Configuration: Front Engine
Engine: 6.1 L V8
Capacity: 6034 cc
Power: 445 bhp at 6000 rpm
Torque: 469 lb-ft
Transmission: 7-Speed Automatic
0-60: 4.2 sec
Top speed: 189 mph