Two exceptional cars, one illustrious lineage: the 2012 JAGUAR XJ LWB Supercharged range reflects the elegance, performance and spirit of the earlier E-Type Series of the 1960s that took the streets of New York City USA by storm. Unlike the E-Type Jaguar that defined an entire era reminiscent of Sinatra, McQueen and Bardot (all of whom were distinguished owners of the E-Type), the incipient XJ Jaguar models are smartly designed to adapt with the present times yet deliver power mixed with sophistication germane to all full-fledged Jaguar automobiles.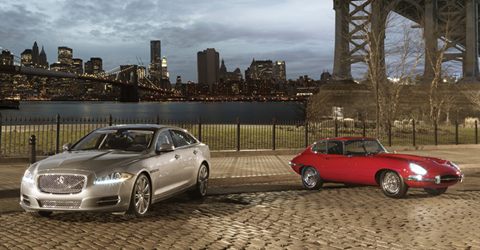 While the iconic E-Type sports car blazed the trail with its 4.2 liter V8 engine (265 HP at 5,500 rpm) amped with triple SU carburetors (considered unprecedented during those times) that lets it sprint from 0-60 mph in 7 seconds, the new & promising Jaguar XJ flagship line, the 2012 Jaguar XJ LWB boasts of a 5,000cc Supercharged V8 engine allowing for 470bhp at 6,000-6,500 rpm (424 lb ft at 2,500-5,500 rpm) of maximum torque that lets the XJ reach a top speed of 155 mph and accelerate from 0-60 mph in only 4.9 s.
Adaptive aero, break and handle dynamics make the XJ an innovative luxury vehicle equipped with an aluminum chassis and wishbones front and rear—an improvement over a steel chassis with only frontal wishbones that defined the E-type of the earlier Jaguar era.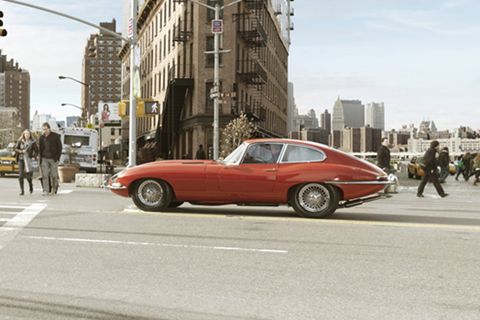 The E-type, however, was still ahead of its time and endures today as a grand opus and considered a prized collector's item—in fact, the E-type is even immortalized at the Museum of Modern Art. If the XJ proves to be a worthy descendant of the Jaguar line of monumental cars, it will carry on the distinguished tradition of the British automobile brand made prominent in the popular psyche with the likes of the E-type Series 1.