When a customer requested for updated modifications to make a 1959 Chevrolet Corvette Custom Car by Pogea Racing, the German company gladly stepped up to the challenge.
This classic car maintains much of the looks of the old 1959 Chevrolet Corvette, with a modern high-performance engine.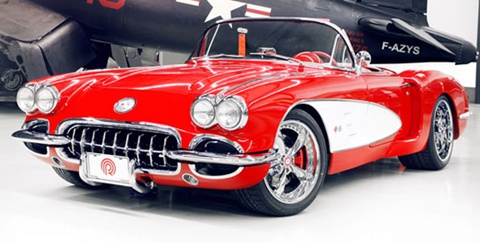 Performance
Under the hood you'll find a 6.2 liter V8 engine that offers 485 horsepower at 4400 rpm. As far as acceleration is concerned, this modified classic car offers speeds comparable to that of top Ferrari road sports cars, able to travel from 0-62 miles per hour in only 3.9 seconds!
The maximum speed tops out at 179 miles per hour. The car delivers 431 pounds per foot of torque, 78.2 horsepower per liter of fuel, and weighs 2,491 pounds. This power is all accessible by a manual five speed transmission operating on a ceramic clutch.
This 1959 Chevrolet Corvette Custom Car by Pogea Racing was created with a Corvette LS3 engine, further enhanced with LS7 fuel injectors and optimized exhaust flow among other things.
This two-seater coupe model also incorporates the sports brake system of a Corvette LS5 for advanced braking capacity. The tires chosen were specialty Bridgestone Potenza brand tires for their superb performance.
Exterior
In order to accommodate the larger rear wheels, the mudguards were widened to make the 1959 Chevrolet Corvette Custom Car by Pogea Racing fourteen and a half inches wider than the classic 1959 Corvette, resulting in a total width of 6.86 feet.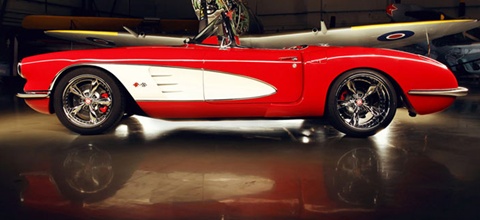 Interior
The interior of the 1959 Chevrolet Corvette Custom by Pogea Racing is based on the color combination of red and white, with a red steering wheel and seats that mimic the Rosso shade so popular with classic Ferrari automobiles.
With additional upgrades of an Alpine multimedia system, as well as satellite navigation, all of the electronics inside the vehicle have been raised to meet the latest standards in technology.
This 1959 Chevrolet Corvette Custom Car by Pogea Racing is a beautiful example of American creativity refined by German engineering.
Specifications
General Info

| | |
| --- | --- |
| Vehicle Type: Classic Coupe | Base Price: NA |
Performance

| | |
| --- | --- |
| Engine: LS3 V8 | Displacement: 6.2 Liter |
| Horsepower: 485 HP | Max RPM: 4400 RPM |
| Torque: 431 lb-ft | Transmission: 5-Speed Manual |
| 0-60 mph: 3.9 seconds | Maximum Speed: 179 mph (288 km/h) |