The 1932 Bugatti Type 41 Royale remains one of the most visually stunning classic cars in the collector's market.
The sleek look of this legendary French car does make it one a prized selection for anyone interested in vintage cars.
It can be said the vehicle was comfortable to ride in. This is a quality that Bugatti has maintained through the years, combining comfort with power.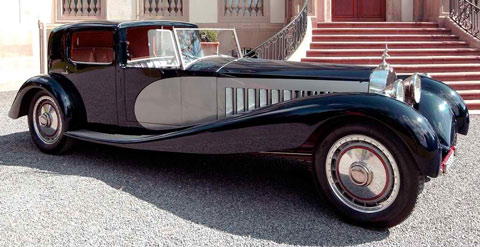 Specifications
General Info

| | |
| --- | --- |
| Vehicle Type: Roadster | Est. Market Price: NA |
| Fuel Tank Capacity: 50.2 gals (190 L) | MPG: NA |
Dimensions

| | |
| --- | --- |
| Length: 255.9 in. (650 cm) | Wheelbase: 169.3 in. (430 cm) |
| Curb Weight: 6614 lbs (3000 kg) | Maximum Seating: 5 |
Performance

| | |
| --- | --- |
| Engine: 8 Cylinder OHC | Displacement: 12.7 Liter |
| Horsepower: 297 HP | Max RPM: 2000 rpm |
Engine & Performance
What made the Type 41 Royale such an impressive vehicle was its power. The original model was built with an 8-cylinder in-line engine connected to an overhead camshaft.
The engine block was massive allowing it to look intimidating. A modified version went into production which yielded a 2.7-liter engine. There are three valves per cylinder which was common among the Bugatti models produced during the era.
The power output of the engine was 297 horsepower at 2,000 rpm. While not the fastest car on the road, it certainly was faster than other models in production at the time.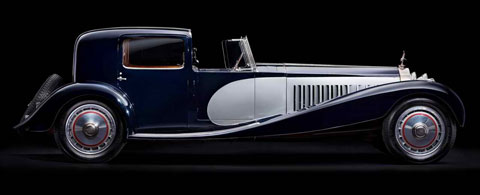 Exterior & Interior
In addition to the amazing power of the 1932 Bugatti Type 41 Royale possessed, the car was known for its high level of style and comfort. The size of the vehicle was impressive. The car measured at 255.9 inches (6.5m) in length and slightly over 157.5 inches (4m) in width.
Probably the most novel visual aspect of the car was the elephant sculpture on the radiator cap. This elephant is still used as a symbol for the new cars to this very day.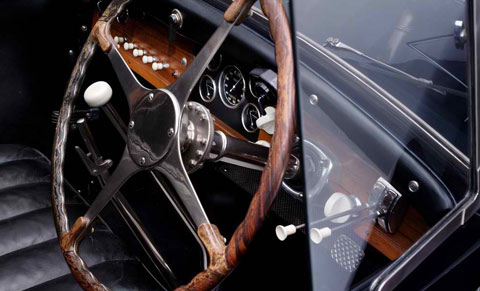 Comfort
Comfort may have been deemed a true luxury in the 1930's since many cars were designed for function. With this model, the interior of the car was luxurious in its level of comfort which contributed to its elegance and appeal.