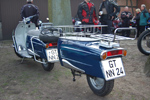 The main problem of motorcyclists with their mode of transportation is that they don't have the space to place any generous amount of goods with them during travel. However, with the motorcycle trailers, this one is not a problem anymore. This has been proven by a lot of bikers all over the globe already.
Basically, there are two types of motorcycle trailers. The first one is the utility or cargo trailer that can be used to load certain stuff during travel. The other is the self-contained tent trailer that can be perfect for your camping trips. Both these kinds of this trailer are made of one wheel or one axle and two wheels.
However, besides these two, there are also some unique kinds of motorcycle trailers. For instance, there is the folding trailer and the retriever trailer that is perfect and convenient traveling buddies for bikers. In fact, the latter one can be maneuvered and folded at the rear of the motorcycle with ease.
In the end, whatever kind of motorcycle trailer there is, what is of great importance here is the new definition it provides to the motorcycle whenever it is attached in one. Indeed, these trailers have made way to make this mode of transportation more helpful to you as an owner.
Easy attachable motorcycle trailer