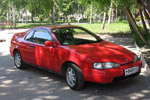 The Toyota Paseo was another one of the car models produced and manufactured by the world based automobile company Toyota. It was a sporty yet economical vehicle that was first released in 1991. It was largely based on Toyota's Tercel model and was available as a coupe or as a convertible. Toyota ceased it sales of the Toyota Paseo last 1997 in the United States only. The car continued to be sold in other countries such as Canada, Europe and Japan until 1999. It was later replaced by the Echo model. It also shares a similar platform and style with the Starlet model and its parts can be interchangeable.
The Toyota Paseo came in two generations, the first being the 1991 to 1995 first generation model and the second one being the 1996 up to 1999 model. The 2nd generation featured a more modern approach in engine electronics, clearly besting the 1st one. It came out in three forms, the ST or base model, the SI or advanced model and the Limited Edition model.
Price Range for used Toyota Paseo: $2000-$4000
Estimated MPG for New Toyota Paseo: 24 City/31 Hwy
Available Trims: Base, Coupe
Below are Pre-Owned Toyota Paseo from Ebay and 7 of the top used-car sites on the web:
No items matching the keyword phrase "Toyota Paseo" were found. This could be due to the keyword phrase used, or could mean your server is unable to communicate with Ebays RSS2 Server.

1997 Toyota Paseo Convertible Road Test