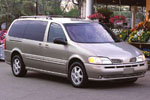 The Oldsmobile Silhouette was a minivan produced by the Oldsmobile division of General Motors. Along with other General Motor minivans Pontiac Trans Sport and Chevrolet Lumina APV, the Silhouette was introduced to the United States market in the last quarter of 1989 for the 1990 model year.
The Silhouette gained popularity when it got prominent exposure in the 1995 movie Get Shorty, and was referred in the film as "The Cadillac of minivans". The first generation of Silhouettes, which rolled off from 1990 to 1996, was marketed as a minivan for the luxury market and was only available for the U.S. market. From 1990 to 1995 the Silhouette ran on an LG6 3.1 L V6 engine, with an optional 3800 3.8 L V6 engine offered from 1992 to 1995. In 1996, an LA1 3400 3.4 L V6 was introduced. A redesigned Silhouette ushered in the second generation of the minivan, and was available in GL, GLS, and Premier trims. The base trim was only available on its first year and the GS trim was available from 1998 to 1999. The Silhouette's replacement after the Oldsmobile discontinuation in 2004 was the Buick Terraza in 2005.
Est. Price for Used Oldsmobile Silhouette: $1,100-$9,000
Est. MPG for Oldsmobile Silhouette: 16 City/23 Hwy
Available Trims: Base, GL, GLS
Below are Pre-Owned Oldsmobile Silhouette from Ebay and 6 of the top used-car sites on the web:
No items matching the keyword phrase "Oldsmobile Silhouette" were found. This could be due to the keyword phrase used, or could mean your server is unable to communicate with Ebays RSS2 Server.

Oldsmobile Silhouette Commercial