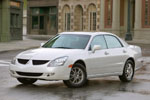 The glittering diamond is so embodied by the Mitsubishi Diamante when it was launched to the public in 1990. Mitsubishi, the manufacturer of stylish and trendy automobiles, has yet another creation in this four-door and five-door sedan.
The second and final generation was released in 1995 and this version had more headroom than its former counterparts. The engines from 1990 until 1995 boasted a 2.5 L 6G73 V6, a 3.0 L 6G72 V6 and a 3.5 L 6G74 V6.
Est. Price Range for Used Mitsubishi Diamante: $1,300-$7,000
Est. MPG for Mitsubishi Diamante: 16 City/23 Hwy
Available Trims: Base, ES, LS
Below are Pre-Owned Mitsubishi Diamante from Ebay and 6 of the top used-car sites on the web:
No items matching the keyword phrase "Mitsubishi Diamante" were found. This could be due to the keyword phrase used, or could mean your server is unable to communicate with Ebays RSS2 Server.

Mitsubishi Diamante Review