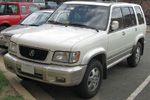 The SLX, a mid-size sports utility vehicle (SUV), was manufactured and marketed by the Acura luxury car division of Honda from 1996 to 1999. It was only sold in the US and came in as a lightly-upgraded Isuzu Trooper. The Acura SLX sales came out poor though. This lackluster market performance was an apparent result of the bad impression left by a "Not Acceptable" rating by the magazine Consumer Report which alleged that the SLX had a tendency to roll over during testing.
Lackluster sales continued despite a court finding in a lawsuit by Isuzu against Consumers Union, the magazine publisher, that some of the publication's statements showed a "reckless disregard" for the truth. The SLX remained not very popular and sales continued to be confined to the US market. The SUV was not made available in Canada. Eventually, the SLX was replaced in 2001 by the Acura MDX,
Estimated Price Range for Used Acura SLX: $2000-$6000
Estimated MPG for Used Acura SLX: 13 City/18 Hwy
Available Trims: base
Below are Pre-Owned Acura SLX from Ebay and 4 of the top used-car sites on the web:
No items matching the keyword phrase "Acura SLX" were found. This could be due to the keyword phrase used, or could mean your server is unable to communicate with Ebays RSS2 Server.