The Porsche 924 is a sports car manufactured by Porsche AG in between the years 1976 to 1988.
The Porsche 924 is also the first model which comes with a front mounted, water cooled engine. The Porsche 924 was launched in the year 1975 at a motor show held at the harbour of La Grande Motte, Camargue, Southern France. The Porsche 924 was actually planned to be Volkswagen's sports car, but Volkswagen asked Porsche to manufacture the car as a competitor to Audi I4 engine. The interiors, exteriors and transmission has been done by Porsche, a rear transaxle has been chosen to provide 48/52 weight at the front and back.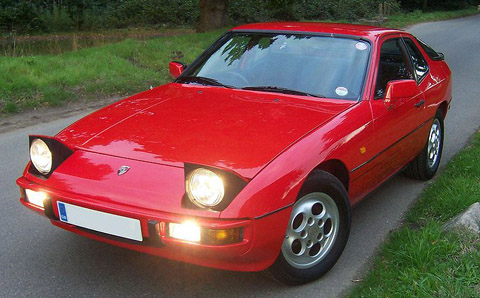 The 5-speed transmission was made available from the year 1979 where the first gear reverses below to the left side. This gear system caused a number of problems which was later replaced by the H-pattern five speeds used in the Audi. The brakes at the front are solid disc and the drum brakes at the rear. A number of modern features have been added to the interiors and exteriors but the car received a number of remarks regarding the poor performance.
924 Turbo
The 924 Turbo was launched in the year 1978 which contained a 2.0 L I4 engine, with a compression ratio of 7:5:1, modern K-26 turbocharger and increased output power of 170 bhp. The wheels are 15-inch spoke alloy wheels with disc brakes and 5-speed transmission.
924S
The 924S is a limited edition for the Le Mans, which was launched in the year 1987. The 924S delivers an output power of about 160 bhp; the car also comes with a slide sun roof and electric tilt. A total of 980 units have been produced, later the production came to an end in the year 1989.
Specifications
Vehicle Type: – Sports car
Body Style: – 2+2 coupe
Engine: – 2L, 2.5L water cooled I4
Transmission: – 5-speed
Height: – 1270 mm
Length: – 4200 mm
Width: – 1685 mm
Weight: -1080 kg
Porsche 924 Overview