The Porsche 912 is a sports car produced by Porsche in between the years 1965 to 1969.
The Porsche 912 is a four seat car which delivers an output power of about 90 SAE at 5800 rpm. The Porsche 912 is a high efficiency petrol engine, low drag and less weight, due these features the 912 gives a mileage of about 30 miles per US gallon.
The Porsche 912 is considered as the predecessor of Porsche 356, where the manufacture of Porsche 356 caused major financial problems to the Porsche. To avoid this Porsche has launched the Porsche 912. During its five year period Porsche has produced around 30,000 units where majority of the cars has been used by the police department.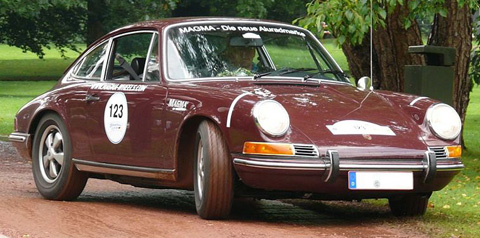 Photo by:
Stahlkocher
,
Creative Commons
The Porsche 912 is manufactured on the 911 chassis where a four cylinder engine had been used. A total of 30,000 units have been produced in its five year period where a number of cars have been used as the police cars in Europe.
Specifications
Vehicle Type: - Sports car
Body Style: - coupe
Engine: - flat-4
Displacement: - 1582 and 1972 cc
Length: - 169.3 in
Wheelbase: - 2255 mm
Height: - 1320 mm
Length: - 4135 mm
Width: - 1600 mm
Weight: - 965 kg
AutoCross 1966 Porsche 912