The 2011 Hamann Porsche Cayenne Guardian Evo is another concept car that was based on the popular Porsche car. The Hamann designs utilizes only top of the line materials in manufacturing their designs for this particular model type.
Interior
The interior is astounding from its embroidered design of the dashboard to the all leather luxury seating; this model definitely spells out first class. In order to provide better grip with the steering wheel, the airbag design was re-adjusted for better driving dynamics.
Aside from all these amazing features, the manufacturers also included carbon components into the design which have successfully enhanced the overall feel of this concept car.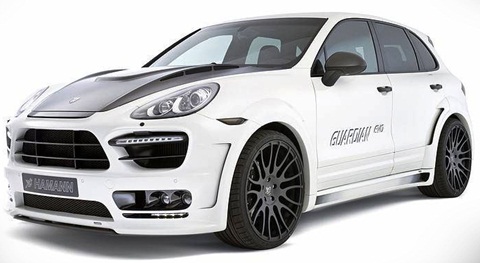 Performance
This model also gives out as much power as beauty. This Hamann Porsche goes 0 to 60 in only 4.2 seconds. This is made possible by the adjustments made to its engine to further increase its performance. Also several components have been installed such as sports catalyst, an engine air filter and silencer; all of which work together to create a powerful engine that can provide optimum performance.
Rims incorporated into this vehicle are ultra-light which help to accomplish two things. First is that it gives the exterior a more luxurious and sophisticated feel. And secondly, this 11Jx23 inch rims help a lot with the automobiles performance. This is further reinforced by the components o of the car's under body. With all the different specifications meticulously incorporated onto this vehicle, it looks powerful and it definitely feels powerful.

Specifications
Performance

| | |
| --- | --- |
| Engine: Twin Turbo V8 | Displacement: 4800 cc |
| Horsepower: 550 HP | Max RPM: 6100 RPM |
| Torque: 568 lb-ft @ 2300-4600 rpm | Transmission: X-Speed Automatic |
| 0-60 mph: 4.2 seconds | Maximum Speed: 187 mph (300 km/h) |