The Swiss are known mainly for the precision and accuracy of their timepieces, but they are also famed for Sportec, the automotive tuner that introduced the ultra-high performance SPR1 range of supercars. The newest addition to this range, the 2009 Sportec SPR1 T80, based on the Porsche 911 Turbo, lives up to the reputation of the elite SPR1s.
The 2009 Sportec SPR1 T80 features a twin-turbo flat-6 rear engine with AWD with an increased horsepower of 858 bhp at 8,200 rpm. As a result, Sportec's latest supercar model offers a blend of performance and poise. The T80 can accelerate from 0 to 62 mph in just 3 seconds and can go up to 186 mph in 18.9 seconds. In Nardo, Italy, the T80 has been recorded to have a top speed of 236 mph.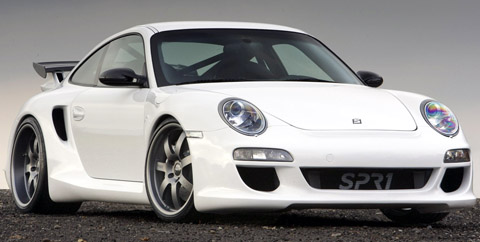 Other features of the T80 include active suspension, F1-style ceramic brake discs, a flat carbon-fiber under-floor, and titanium connecting rods. The 2009 Sportec SPR1 T80 also boasts of carbon/Kevlar body panels, an integrated safety cage, and forged alloy wheels, which make the T80 safer, lighter, and more dynamic than other supercars.